28 mai 2023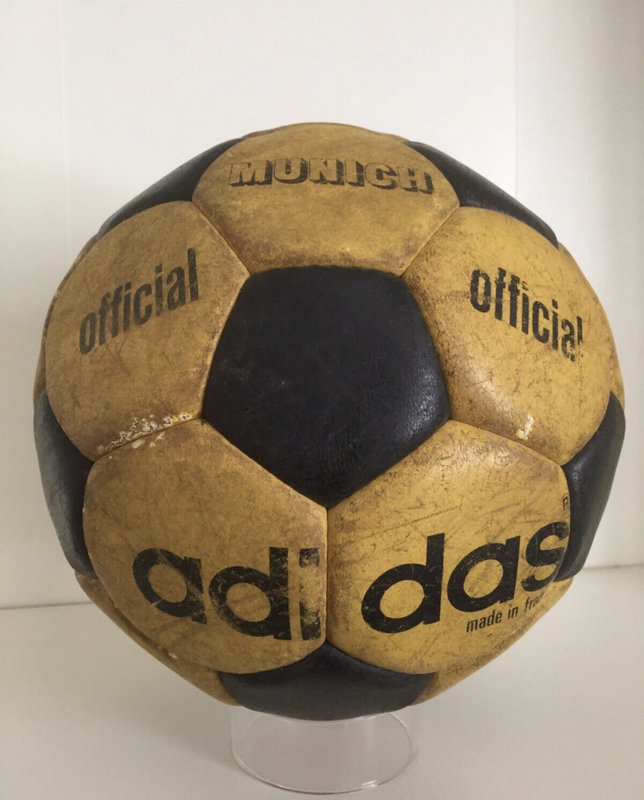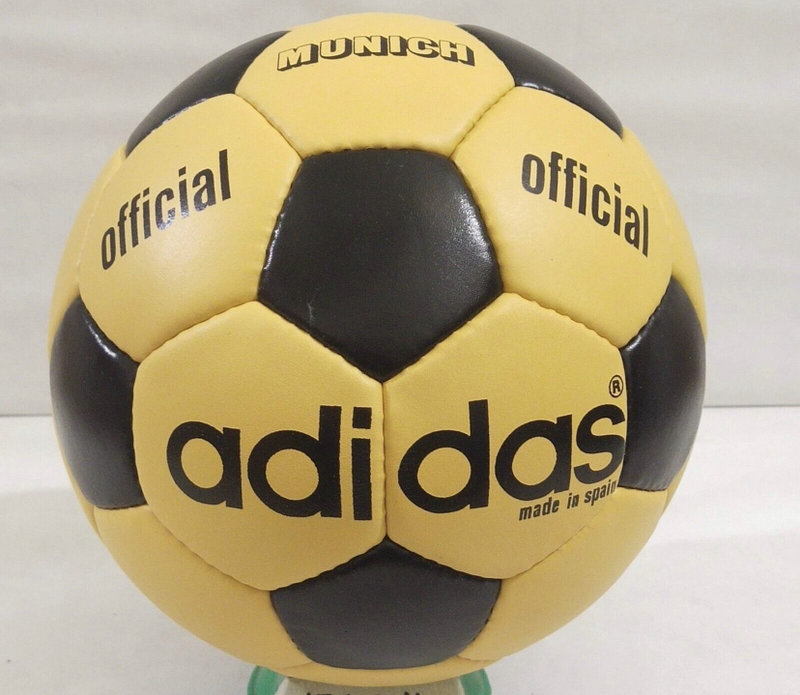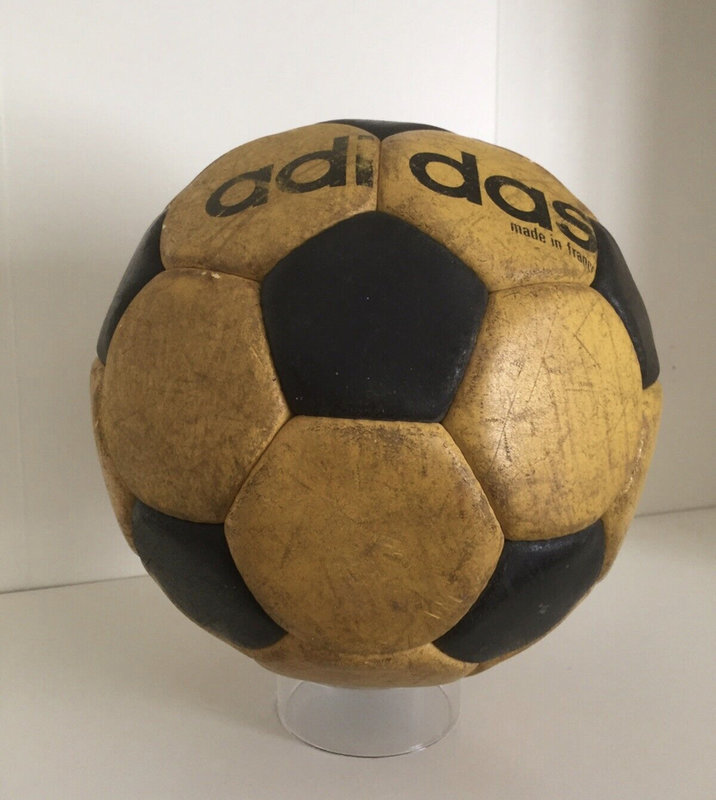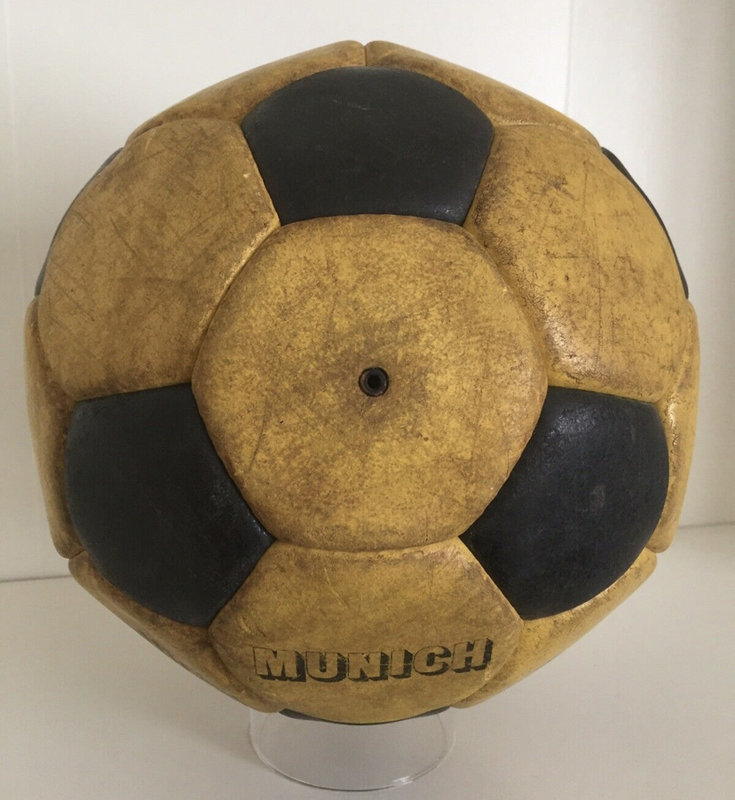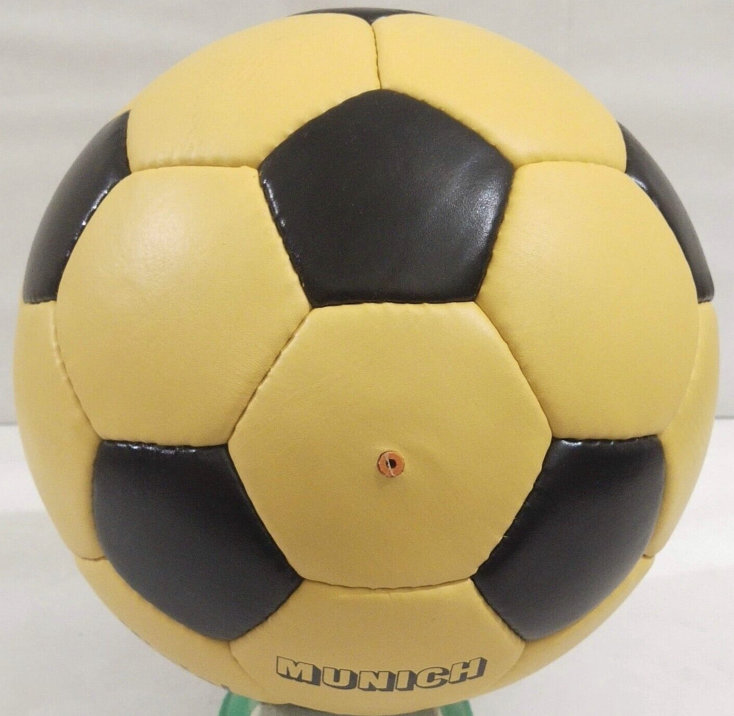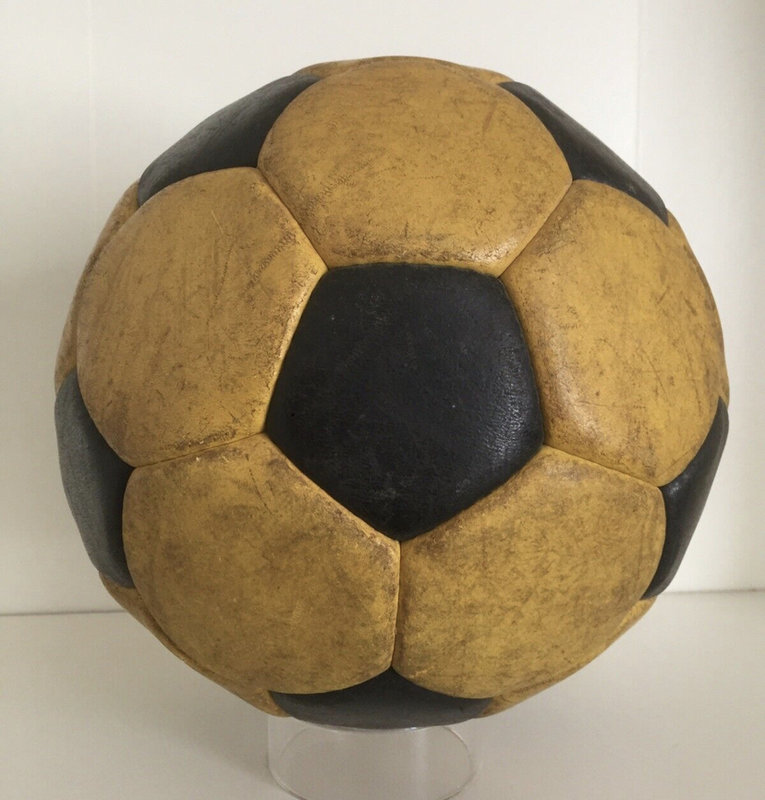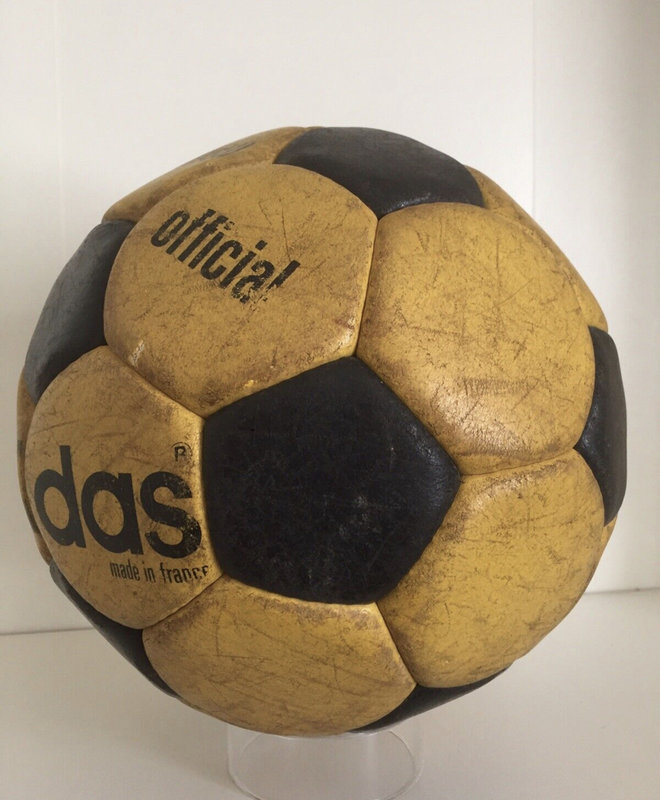 08 avril 2023
I present to you my last purchase just arrived !!
All is perfect for this ball !
The official match ball of the Emperor's Cup.
JFA test sphere.
No. 5 ball
*Designed to create a Japanese-style, high-class atmosphere by using the red of the Emperor's Cup logo and gold to celebrate the 100th event.
An original pattern that combines the tortoise shell pattern with the dragonfly pattern used in the previous model is arranged.
The dragonfly is a pattern favored by samurai warriors, and the tortoiseshell pattern is a traditional pattern that means eternal prosperity.
Size... No. 5
Material: latex, for turf
Features ··· JFA test ball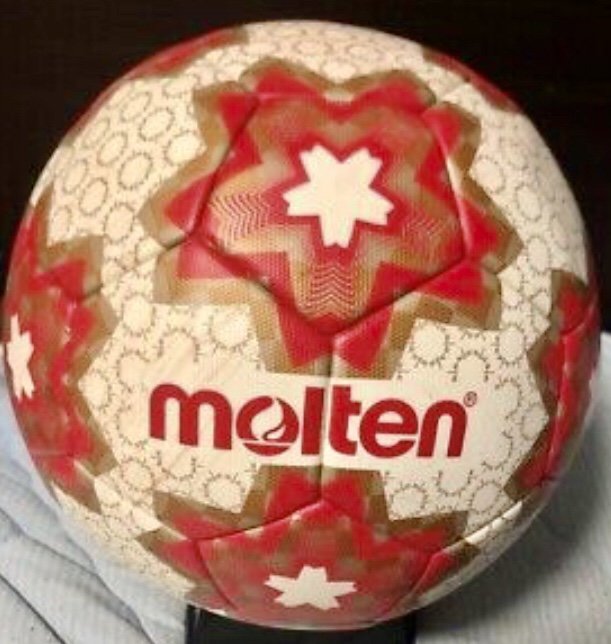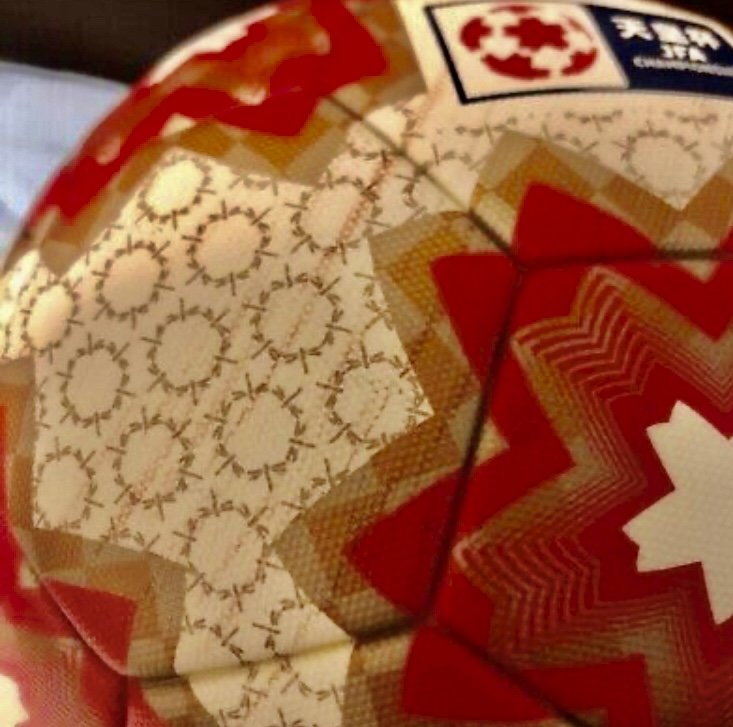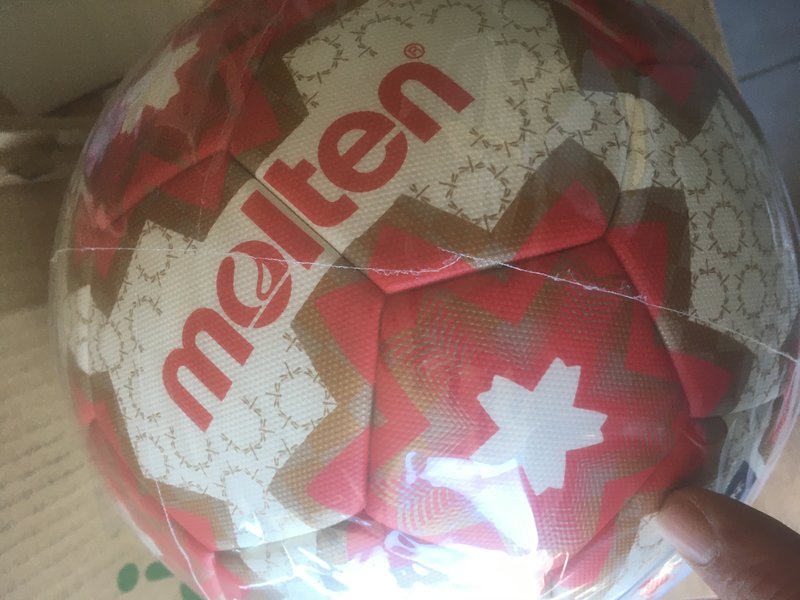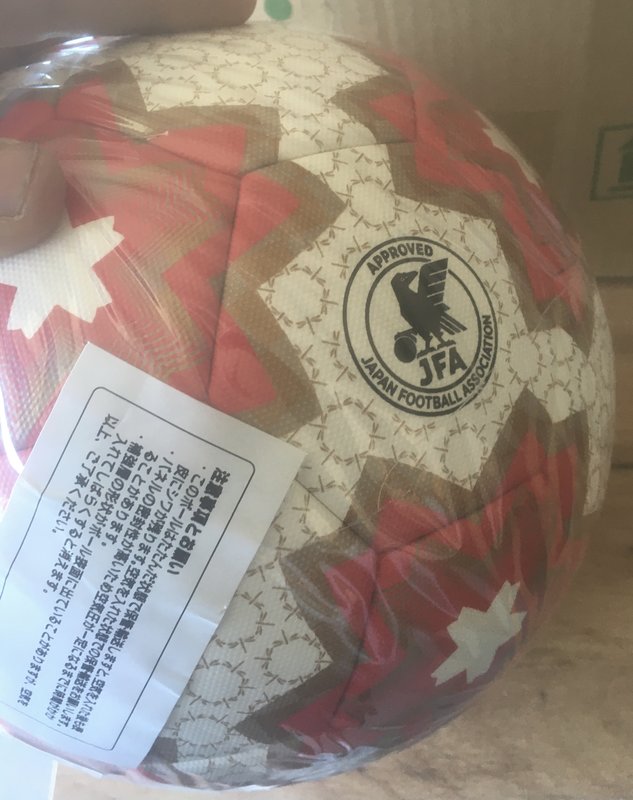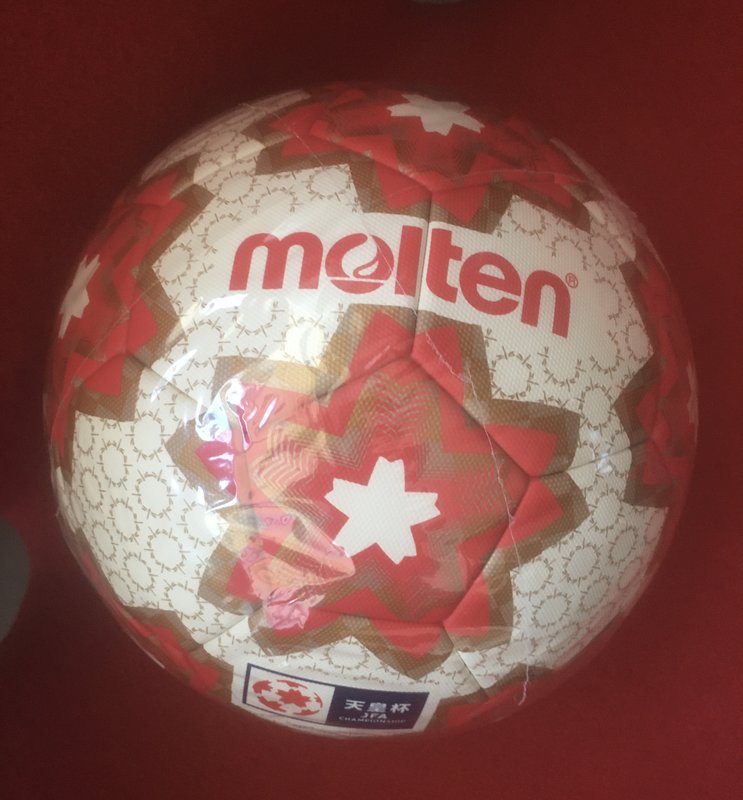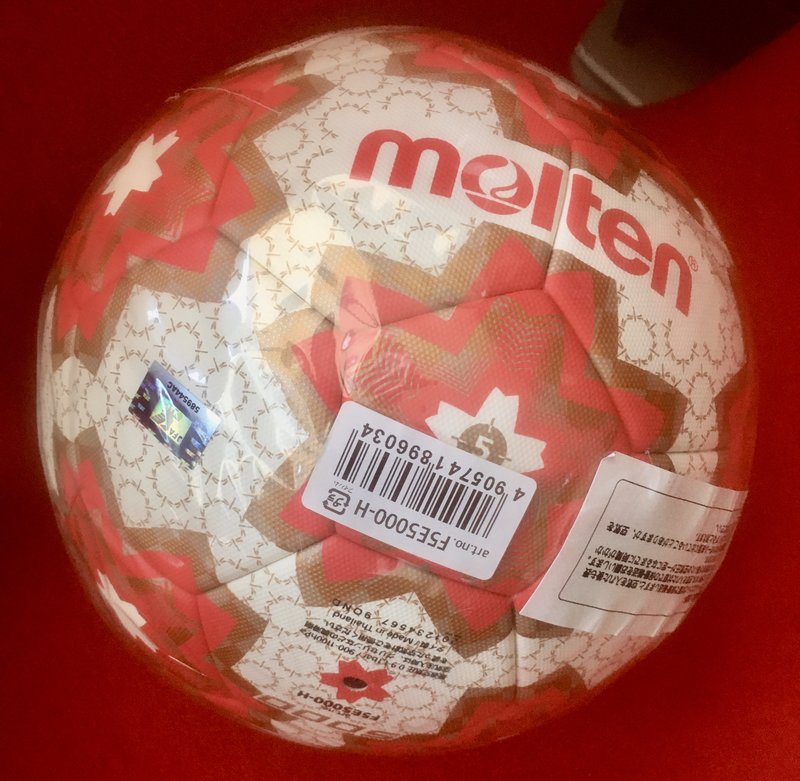 04 avril 2023
Merci à ce vendeur qui m'a permis d'acquérir ce ball Adidas signé par l'équipe de l'OM , Olmeta,Papin,Boli,Mozer,Durand,Eyraud,Waddle, Goethals,Xuereb,Deschamps..
Ce cuir a vécu mais il va rester dans son jus et j'opérerai le changement de vessie bientôt pour lui redonner une forme plus convenable .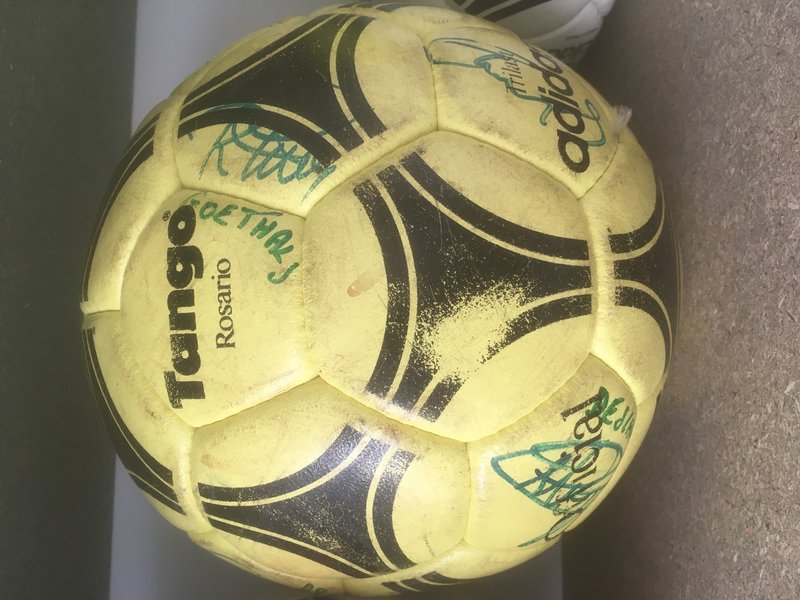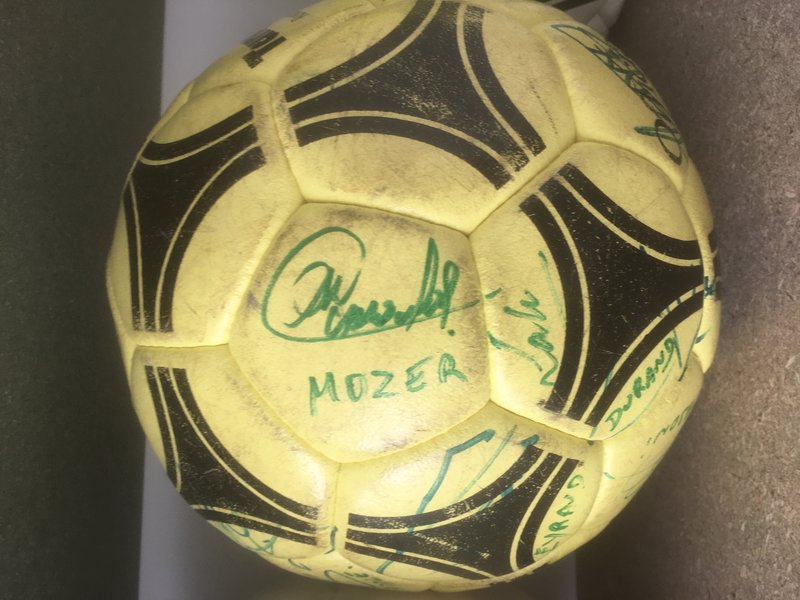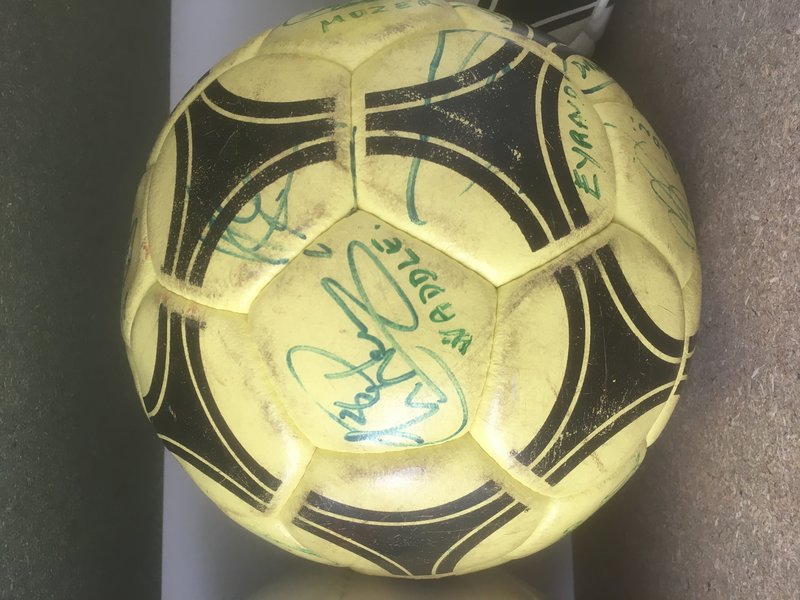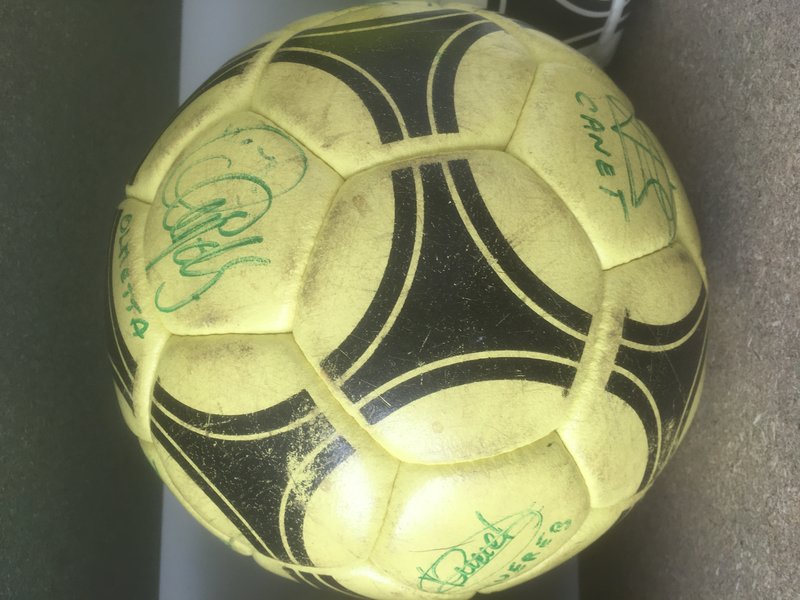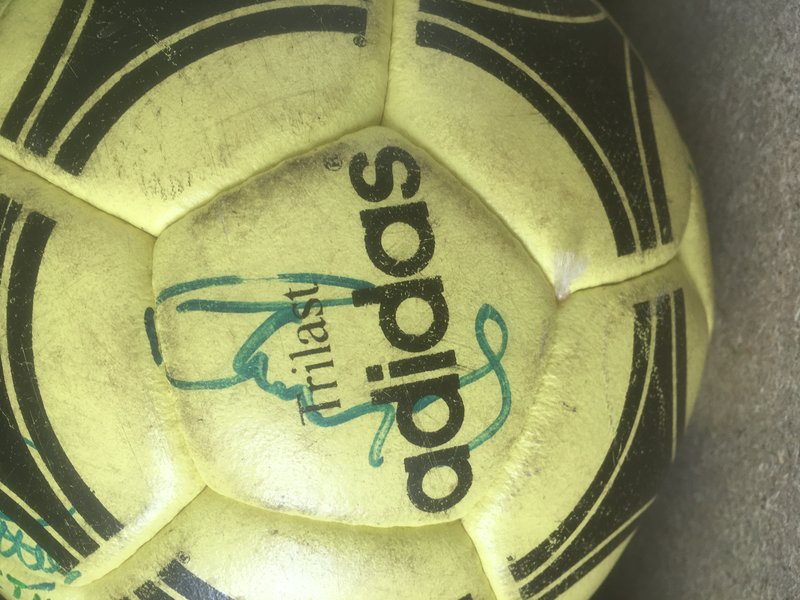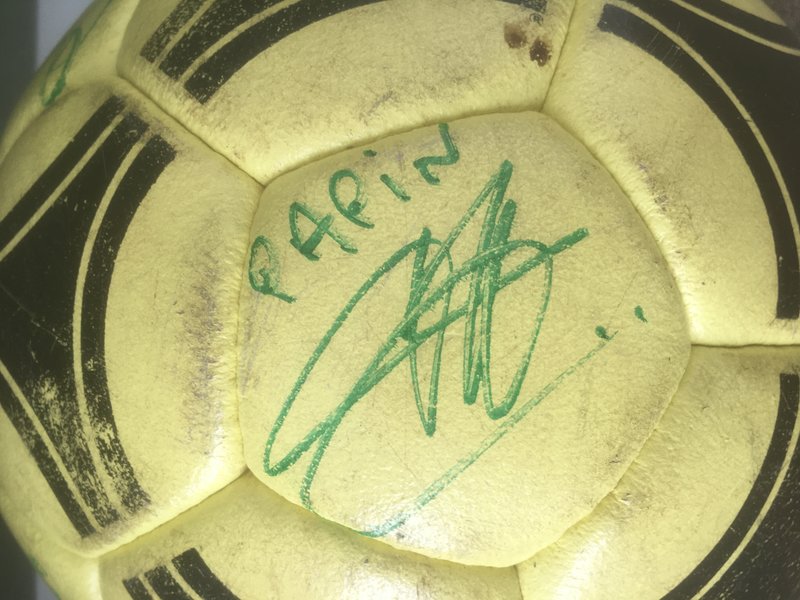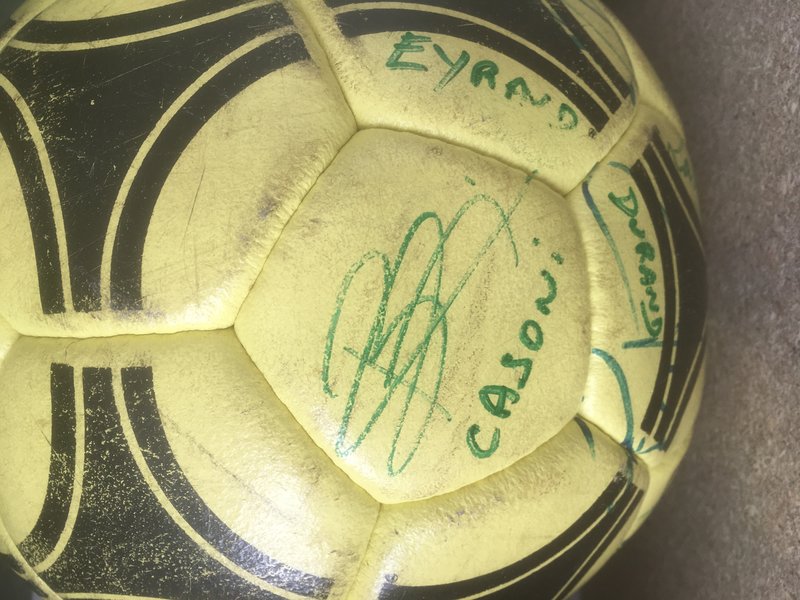 31 mars 2023
Les ballons Adidas depuis 1960
Depuis la première édition de la coupe d'Europe en 1960, les ballons Adidas se succèdent les uns aux autres, tous plus performants et innovants d'années en années. Quelques mois après la présentation du ballon de l'Euro 2016, nous vous proposons un retour en images sur les différents modèles de ballons qui ont servi le championnat depuis sa création.
« Depuis bientôt 70 ans, Adidas renouvelle les ballons de tous les matchs de grands championnats. »
Les années passent, et les ballons se succèdent. Depuis les années 60 et la création des grands championnats de football, chaque évènement sportif est devenu l'occasion de battre des recordsen terme de performances des ballons de foot.
Grâce à son expérience sans égale, Adidas est devenu le roi du marché, et en même temps le fournisseur officiel de tous les grands matchs de coupe UEFA et FIFA. Les ballons de la marque allemandesont incontournables dans l'histoire du foot et dans la culture populaire, du modèle Telstar Elast en 1968, au Tango 12en 2012.
Omniprésents, les ballons Adidas ont servi de modèles aux meilleurs équipementiers, et des milliers de répliques ont été vendues dans le monde entier. Si les anciens modèles sont devenu intouchables, les nouvelles créations sont en passe de devenir aussi populaires, alimentant tous les 3 ou 4 ans le culte du ballon de foot.
Alors que nous vous présentions Beau Jeu, le ballon officiel de l'Euro 2016, il y a quelques mois, nous vous proposons aujourd'hui un retour en image sur les 15 ballons qui ont fait l'histoire du championnat depuis sa création.
France – 1960
En 1960, la France organise et accueille les matchs de la toute première édition de la coupe d'Europe, et déjà, c'est Adidas qui fournit les ballons officiels du championnat. Entièrement conçus en cuir, les ballons de l'époque sont fabriqués selon les méthodes anciennes et traditionnelles; ils ne portent ni nom, ni inscription.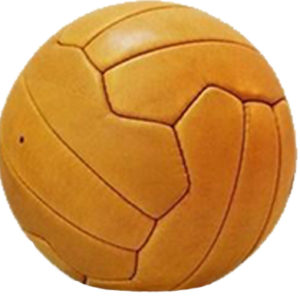 Espagne – 1964
Le ballon est identique à celui de la première édition du championnat, si ce n'est qu'il est blanc, pour être plus facilement repéré sur les terrains. Il ne porte pas de nom est n'est pas sérigraphié non plus.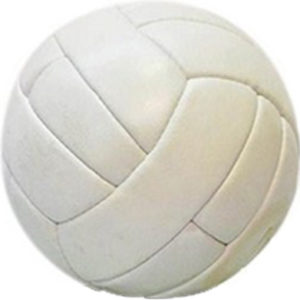 Telsar Elast : Italie – 1968
Le Telstar Elast révolutionne l'histoire de la production de ballons. Conçu pou le coupe du monde, il est premier dans plusieurs domaines, et lance la lignée des Telstar. En portant un nom et le logo d'une marque, il enclenche la strategie marketing d'Adidas. Enveloppé d'une couche de plastique appelée Elast, il est aussi le premier ballon à peu près imperméable, qui ne s'alourdit quand le match a lieu par temps de pluie.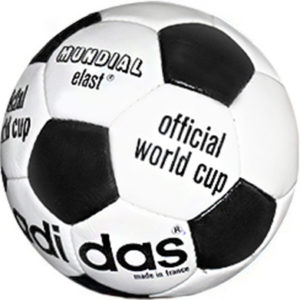 Telstar Mexico Durlast : Belgica 1972
Créé pour la coupe du monde au Mexiqueen 1970, ce ballon a servi les matchs officiels de la coupe d'Europe deux ans plus tard. Ses 32 panneaux sont dotés d'un nouveau revêtement en polyuréthane, plus solide que le Elast. Cette nouvelle enveloppe appelée Durlast, protège le cuir du ballon le rendant encore plus résistant l'eau et s'adapte à tous les terrains (boue, neige…).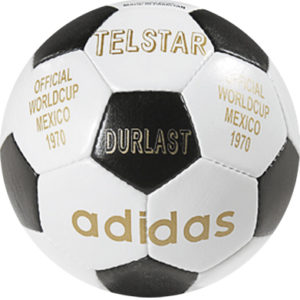 Telstar Durlast : Yugoslavia 1976
Nouvelle version du Telstar d'Adidas, le pelliculage du Durlast est amélioré tandis que le design du ballon reste le même : un icosaèdre tronqué monté sur 32 panneau noirs et blancs. Ce ballon est le modèle le plus repris d'Adidas, icône dans la représentation sociale du ballon de football, des milliers de répliques ont été vendues dans le monde entier.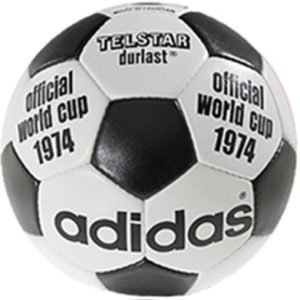 Tango River Plate : Italie 1980
Le Tango est aussi emblématique que le Telstar. Premier de sa lignée, son design particulier est resté le même jusqu'en 2000. Sur le plan technique, il reprend les caractéristiques du Durlast, optimisées, pour une étanchéité améliorée et une résistance aux éraflures solide.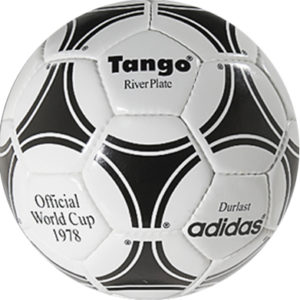 Tango Mundial : France 1984
Il est le premier ballon Adidas à ne pas être en cuir. Ses panneaux sont faits de plusieures couches en polyuréthanepressées les unes sur les autres, pour améliorer l'amortis de la balle. C'est également la première fois qu'un ballon est conçu spécifiquement pour l'Euro, portant les marques de l'évènement sur ses panneaux.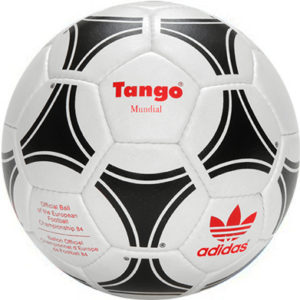 Tango Europa : Allemagne fédérale 1988
Toujours en polyuréthane, le ballon évolue peu si ce n'est que la couche externe en polyuréthane est retravaillée pour obtenir un ballon au maximum de son étanchéité.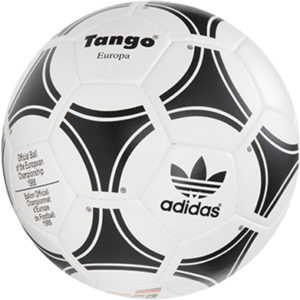 Etrusco Unico : Suède 1992
Bien qu'il ai été dessiné à partir du fameux Tango, ce ballon s'éloigne des modèles précédents grâce à son graphisme particulier, qui pour la première fois fait directement référence au pays accueillant les matchs du championnat : la Suède. Son nom « etrusco unico » et les têtes de lions imprimées s'inspirent de l'histoire étrusque, inhérente au pays.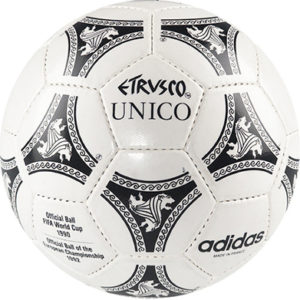 Questra Europa : Angleterre 1996
Adidas ajoute à son nouveau ballon une couche de mousse supplémentaire pour améliorer les performances du ballon(amortis, pénétration dans l'air, poids…). Les roses rouges et les trois lions imprimés font honneur à la fédération anglaise, qui accueille cette année là les matchs de l'Euro.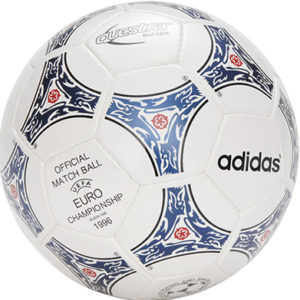 Terrestra Silverstream : Belgique et hollande 2000
Toujours dans la recherche d'un produit plus performant, Adidas revoit les couches internes du ballon et assemble les panneaux à une nouvelle mousse, qui doit encore améliorer l'amorti du ballon. Le graphisme du ballon, quant à lui, s'inspire toujours du modèle Tango tout en s'en éloignant. Le ballon renvoie aux rivières et aux mer des Pays-Bas et de la Belgique, hôte de l'édition 2000 de l'Euro.
Roteiro : Portugal 2004
Le Roteiro change complètement les codes esthétiques des ballons crées jusqu'à présent. Inspiré du célèbre explorateur portugais Vasco de Gama, ce modèle métallique emprisonné dans ses lignes noires affirme sa modernité et sa tendance futuriste. En 2004, le Roteiro est le premier ballon officiel à ne pas être cousu à la main. Thermosoudé, il est plus résistant et son touché est amélioré.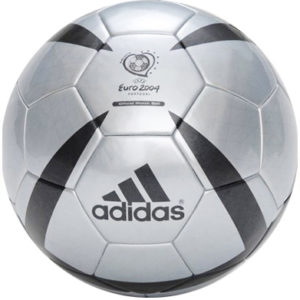 EUROPASS : Autriche et suisse 2008
Pour l'Euro 2008, Adidas a recherché un tout nouveau système de panneaux ainsi qu'un grain garantissant une meilleure accroche de la balle tant pour le joueurque pour le gardien. Monté sur 12 panneaux, l'Europass réinterprète le tango, et se met aux couleurs des deux pays qui accueillent les matchs du championnat.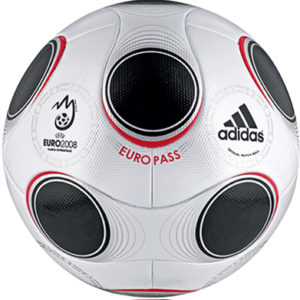 Tango 12 : Pologne et Ukraine 2012
Le Tango 12 et son nouveau système de panneaux ont demandé deux ans de recherche et développement à Adidas. Testé et validé par des joueurs professionnels dans huit pays différents, ce onzième ballon officiel de l'Euro est une déclinaison moderne du design classiquedu Tango, ses lignes reprenant les couleurs de la pologne et l'Ukraine.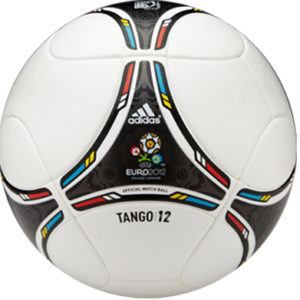 Beau jeu : France 2016
Dévoilé il y a tout juste quelques mois, ce ballon est monté sur le modèle du ballonofficiel de la coupe du monde 2014. Ses six panneaux blancs reprennent les lettres E.U.R.O et les chiffres 2.0.1.6, imprimés aux couleurs bleues, blanches et rouges de la France, qui accueillera le championnatdans ses stades cet été.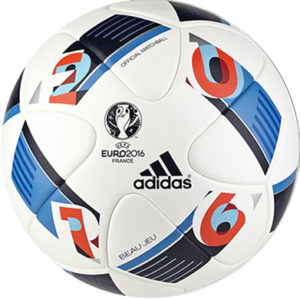 Depuis bientôt 70 ans, Adidas renouvelle les ballons de tous les matchs de grands championnats, poussant au maximum leurs performances techniques. Si le ballon de l'Euro 2016 a été révélé il y a peu de temps, il faudra encore attendre quelques mois pour le voir en action sur les terrains.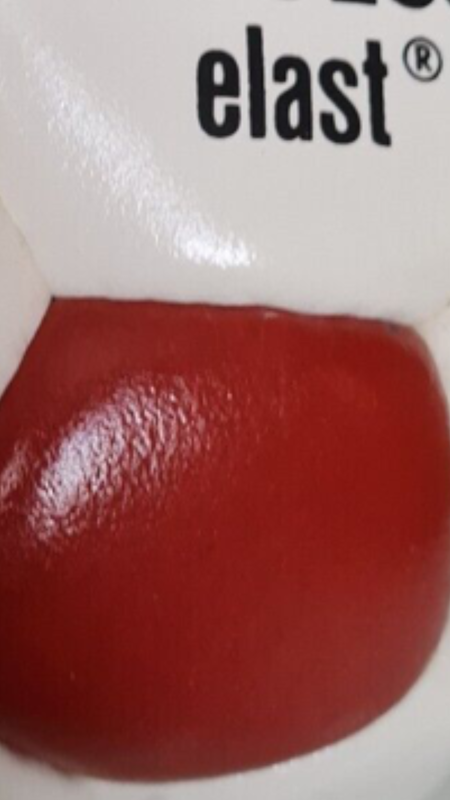 The Elast tricolor is really great from my souvenir and the original is just perfect with a leather flexible yet and the bladder is good. I compare with replica with pics for you now . Let you an idea for the both.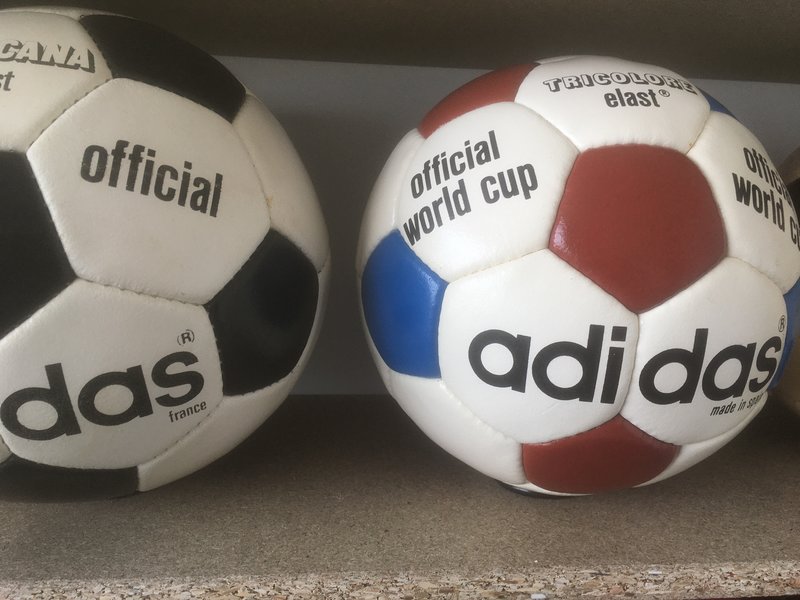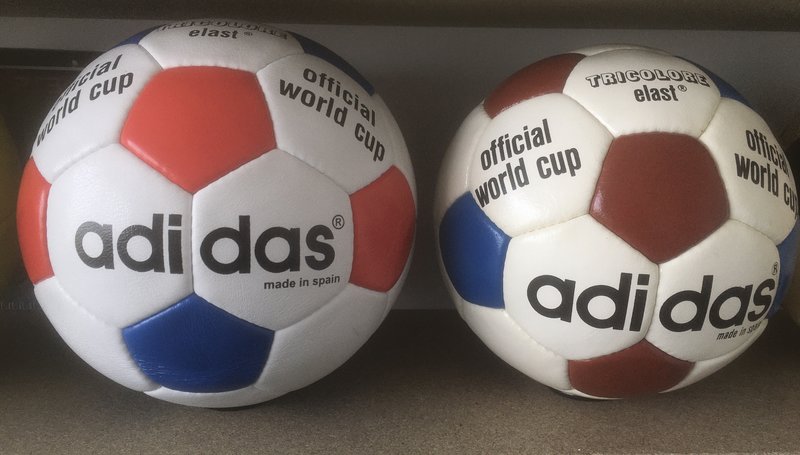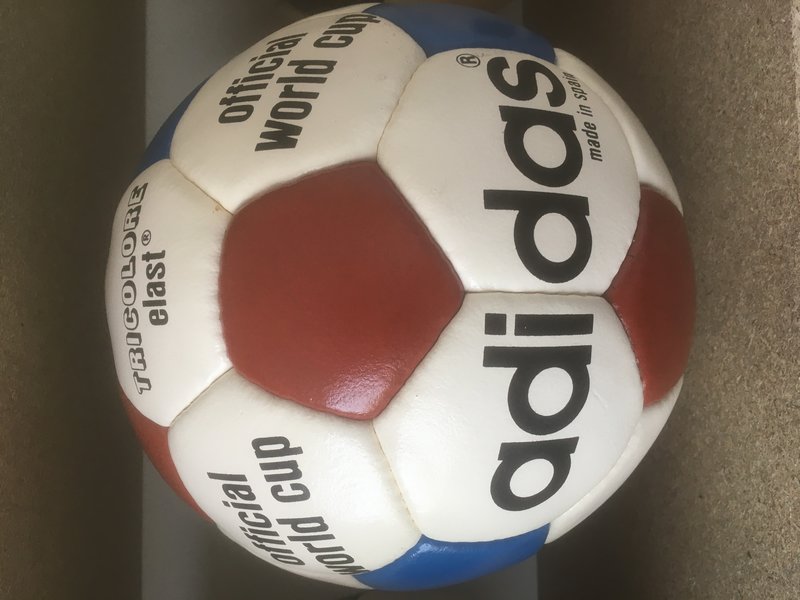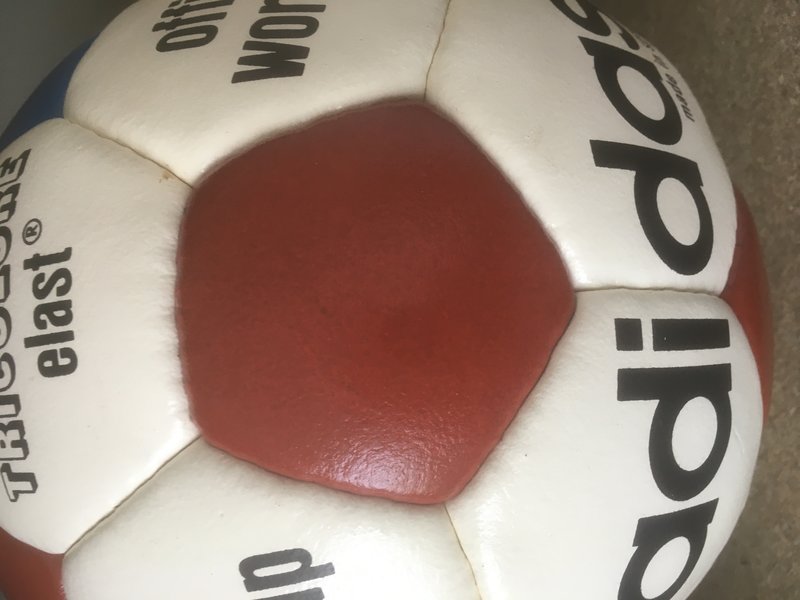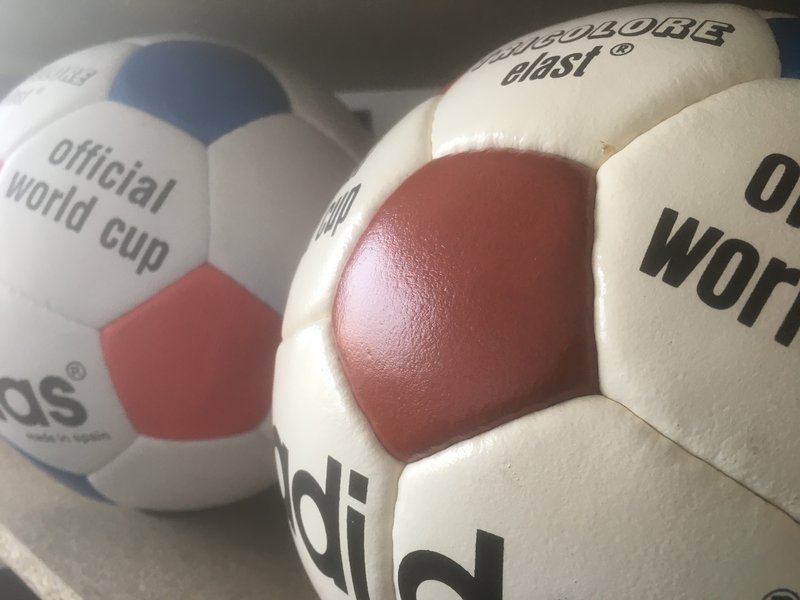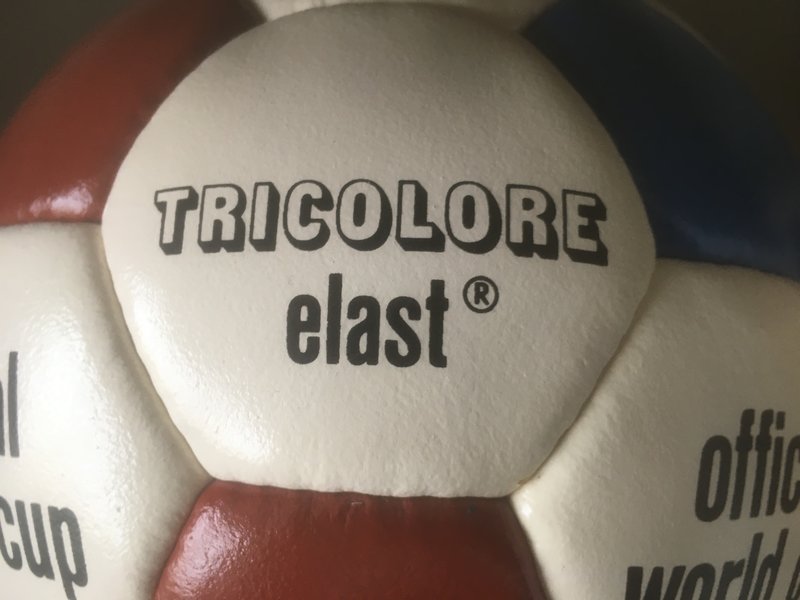 27 mars 2023
Une vente exceptionnelle vient de se produire sur le site eBay concernant Adidas et des ballons d'exception très rares dans l'état avec les boites d'origine . La série de ce vendeur est très rare et depuis que je collectionne les ballons Adidas entre autre je n'avais jamais vu pareilles enchères ´. Non seulement les enchères sont un montées rapidement pour s'accélérer dans les dernières minutes que même en plaçant des offres élevées en dernière ligne droite elles m'ont échappées sauf une que je vais bientôt recevoir le trilast Tricolore !
Il existe encore un bon nombre de collectionneurs avisés !! Regardons maintenant les lots et j'imagine qu'un jour il en ressortira peut-être en enchères.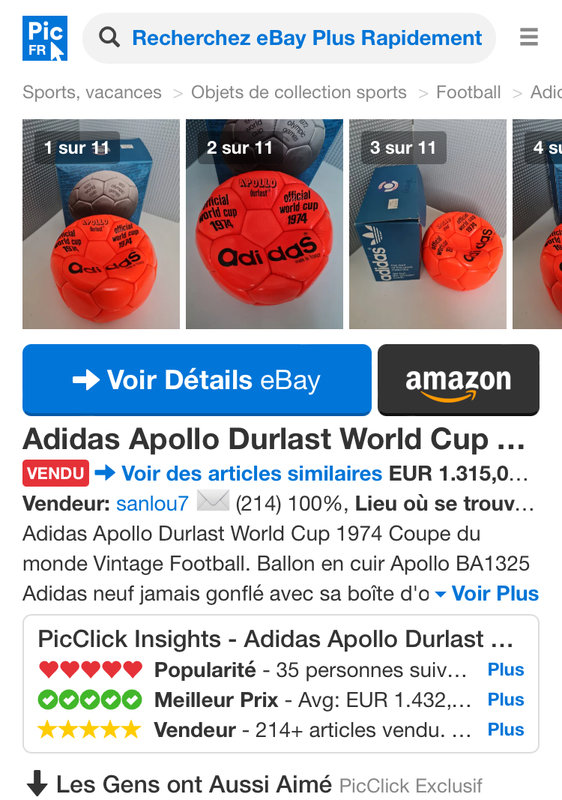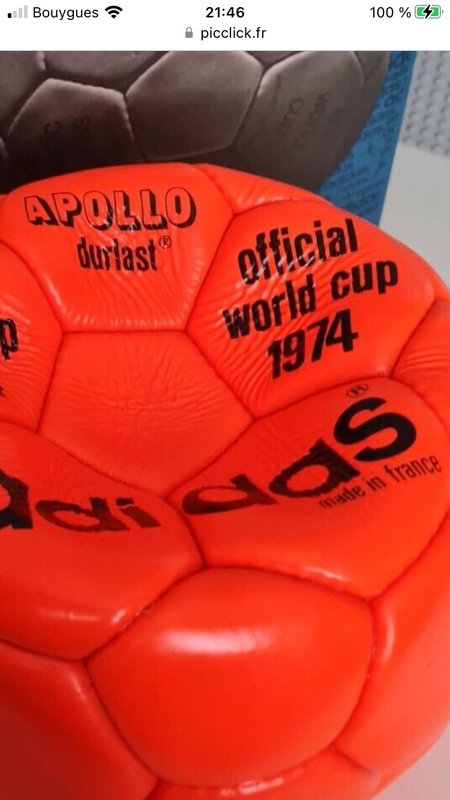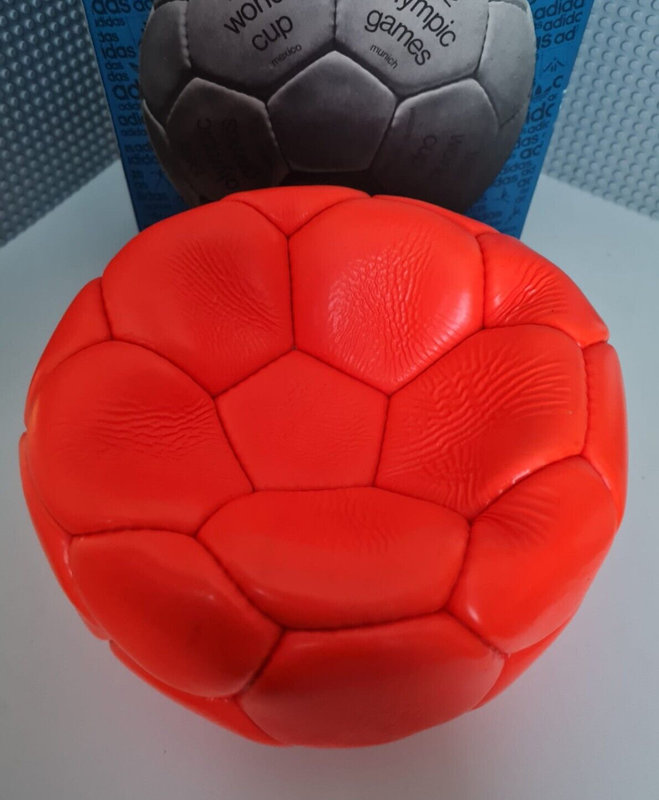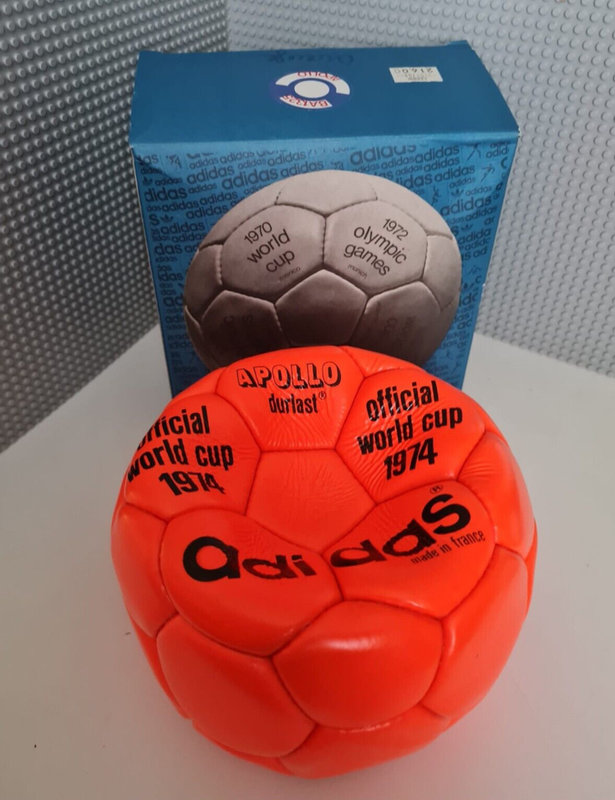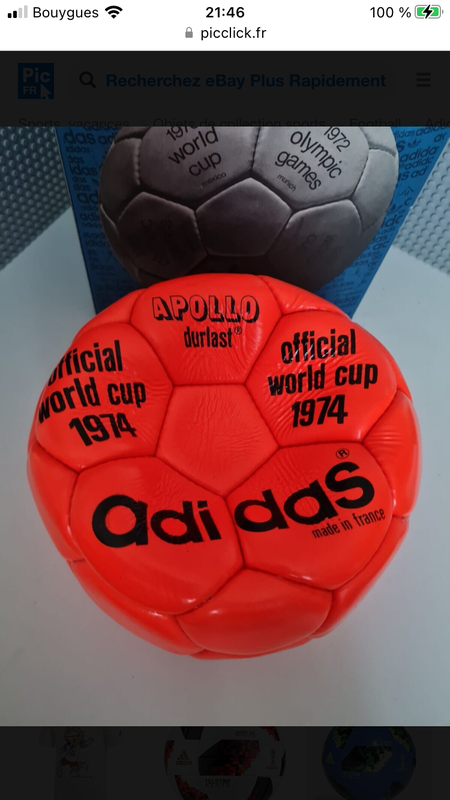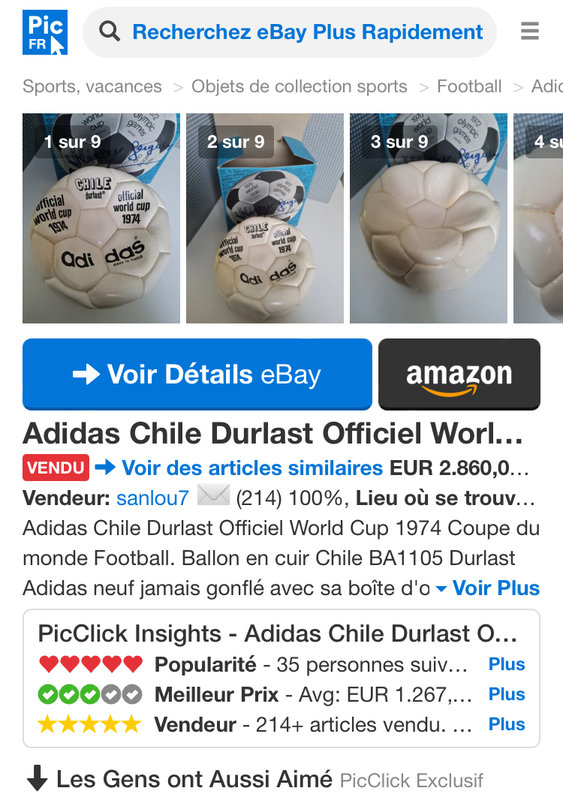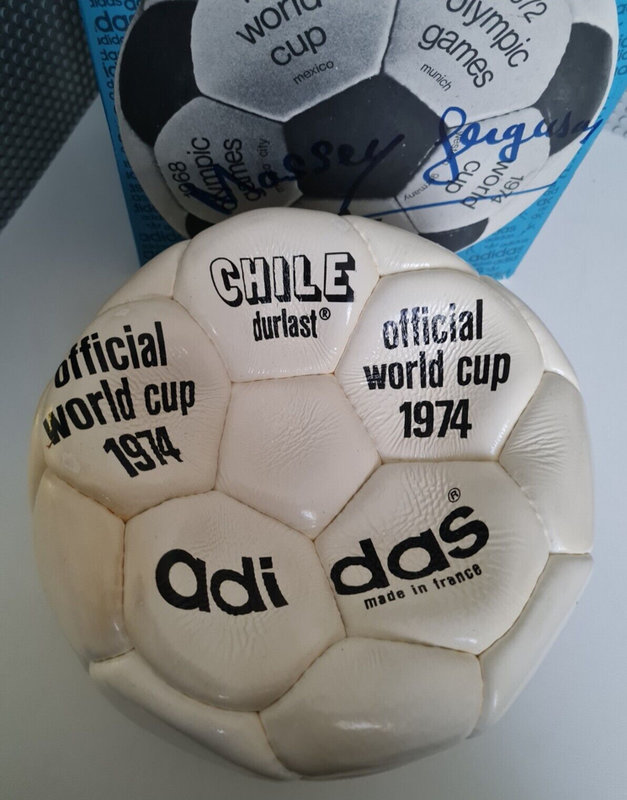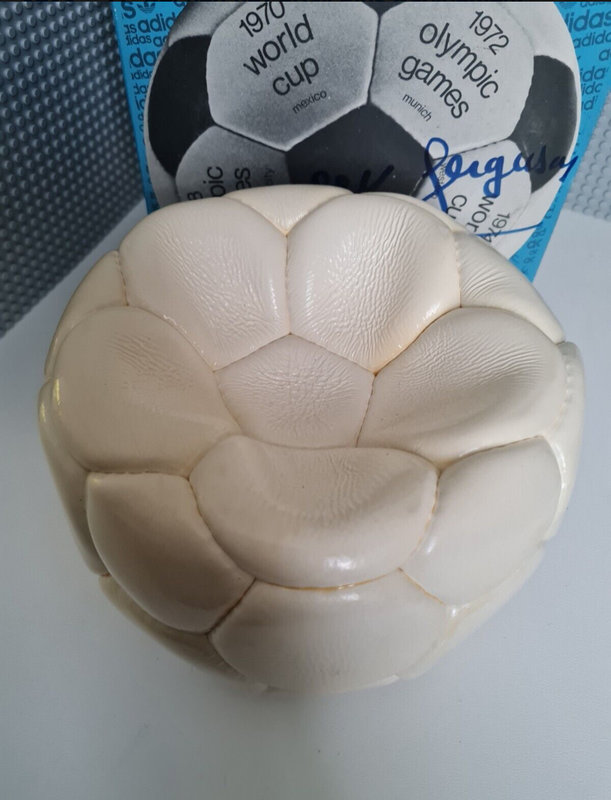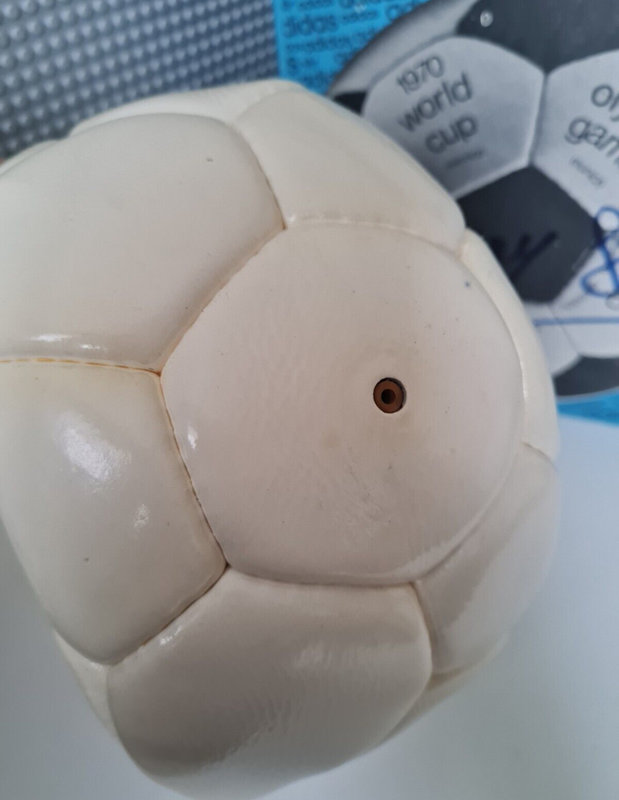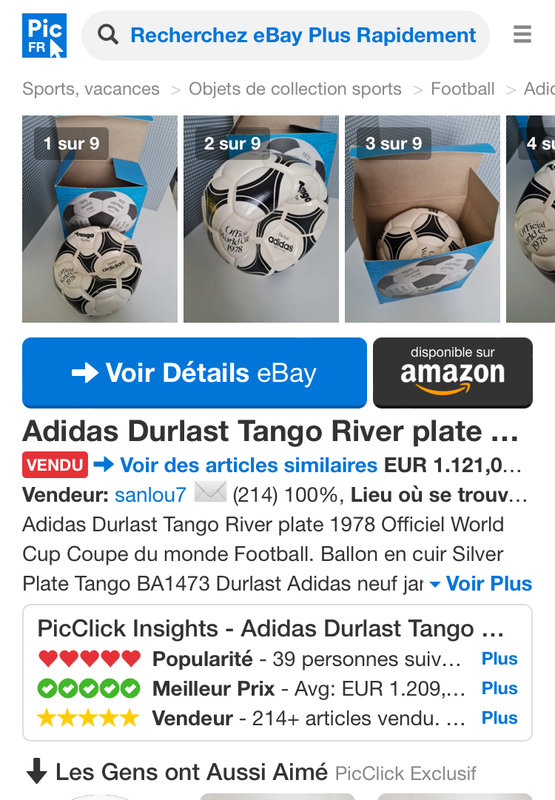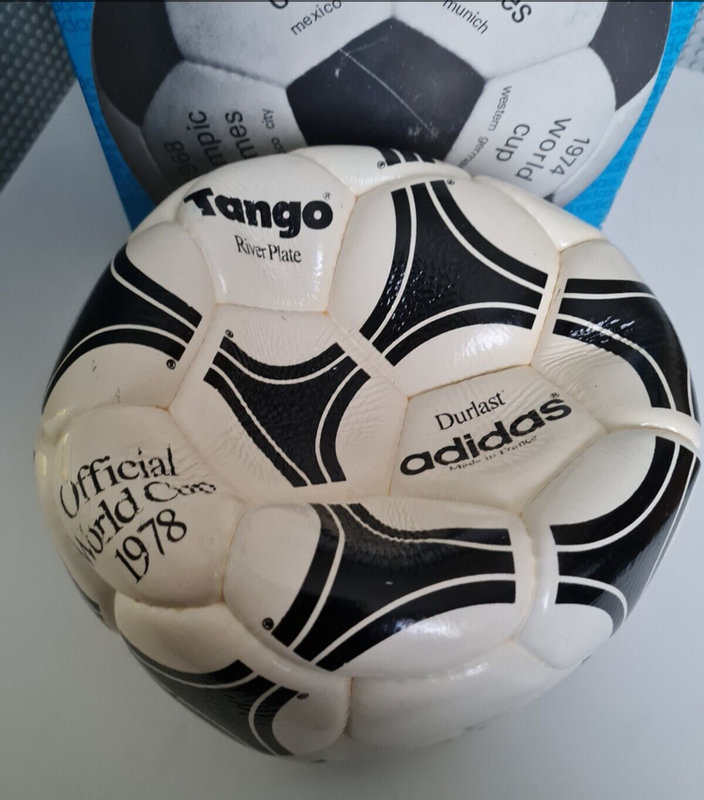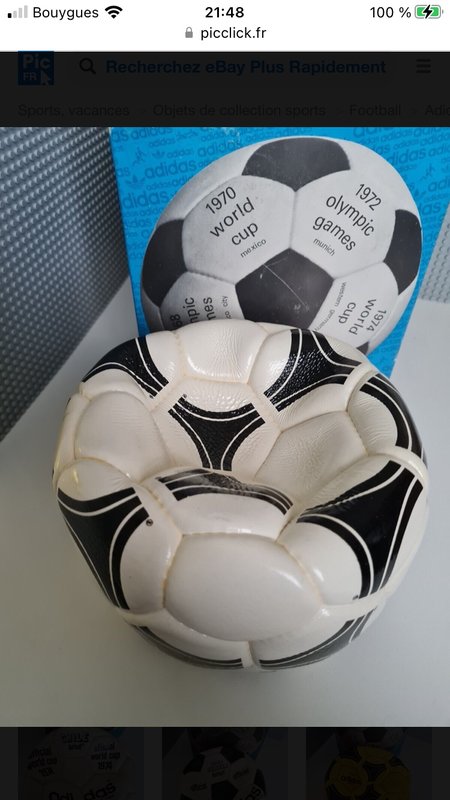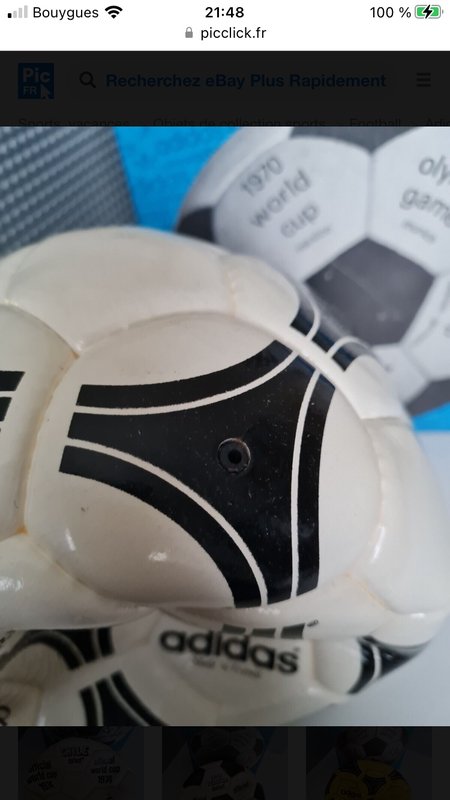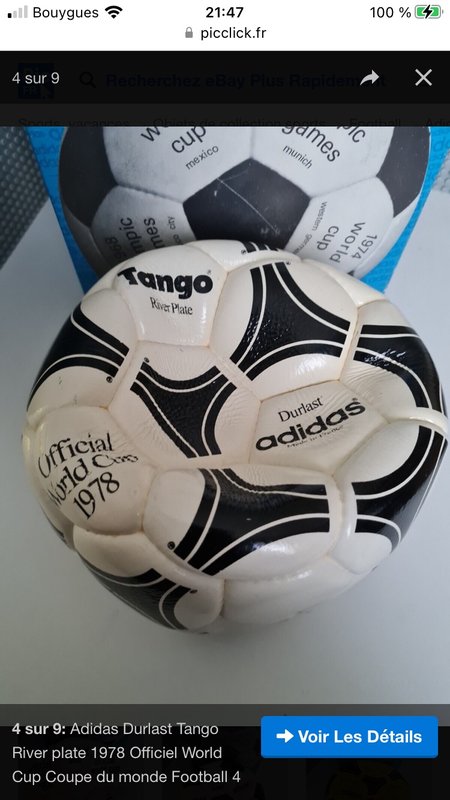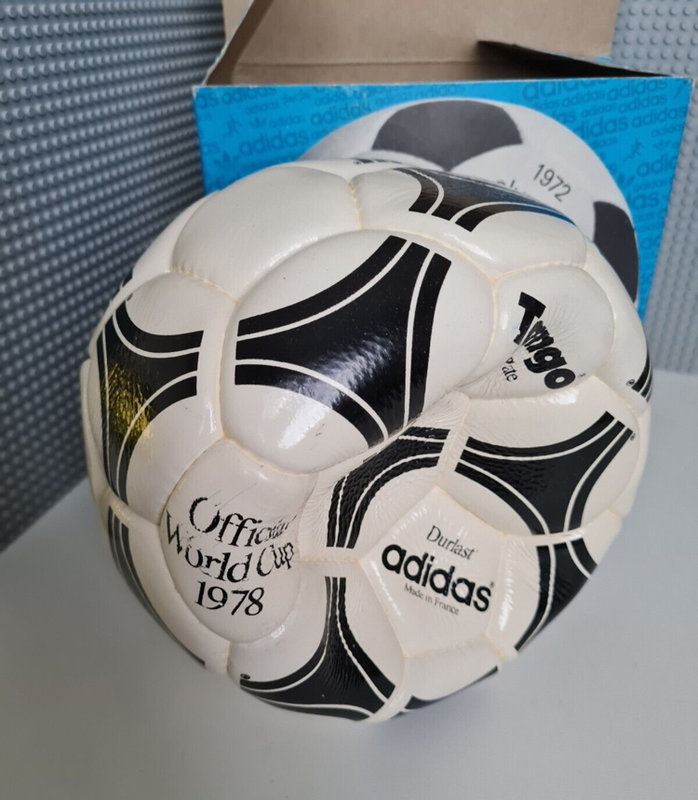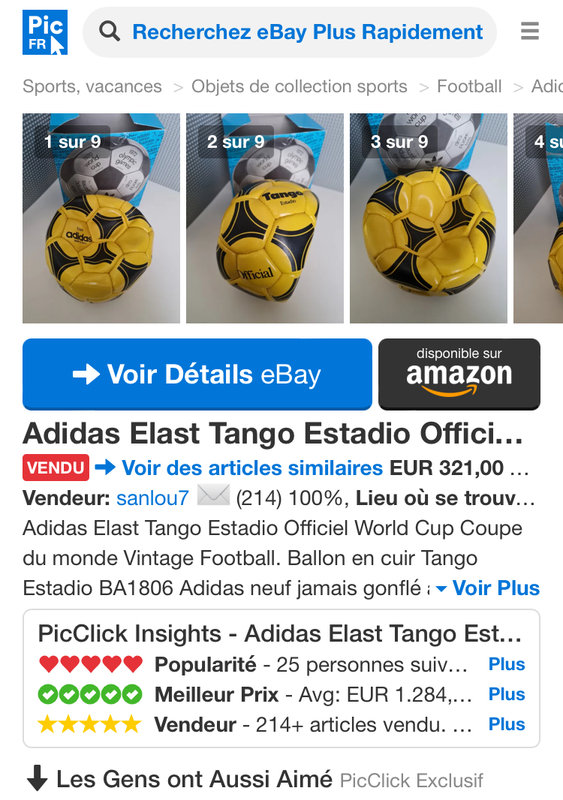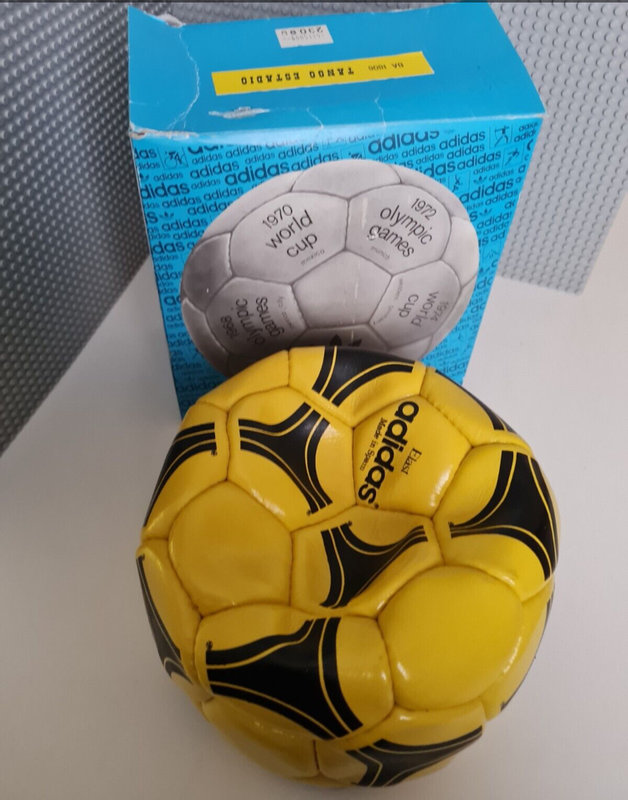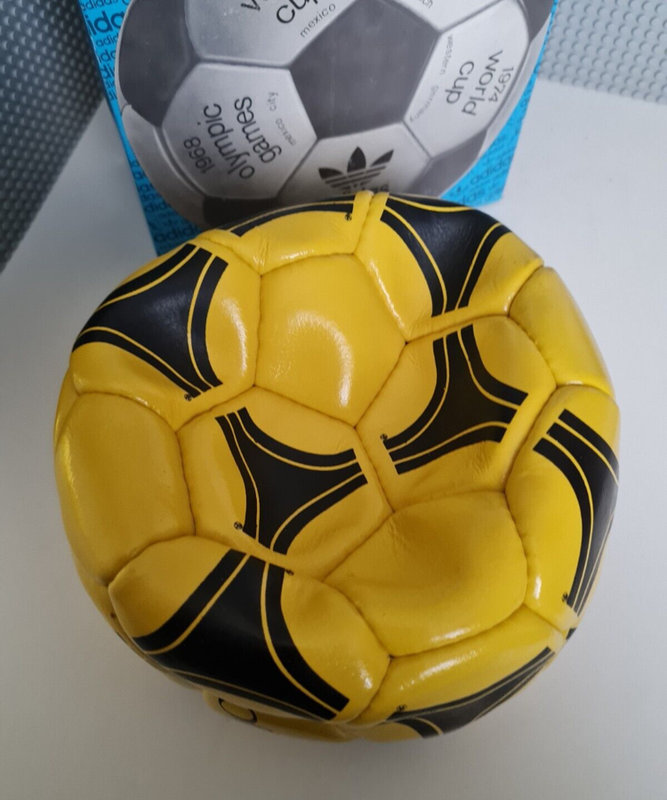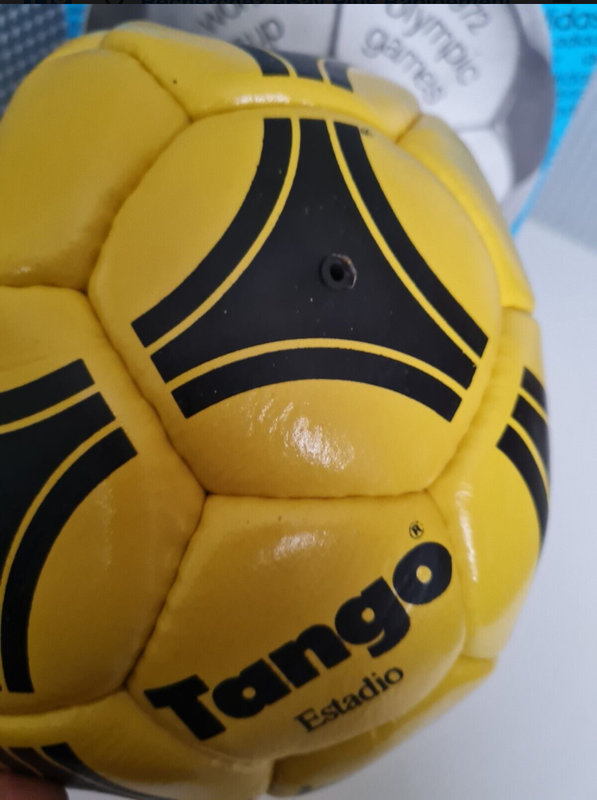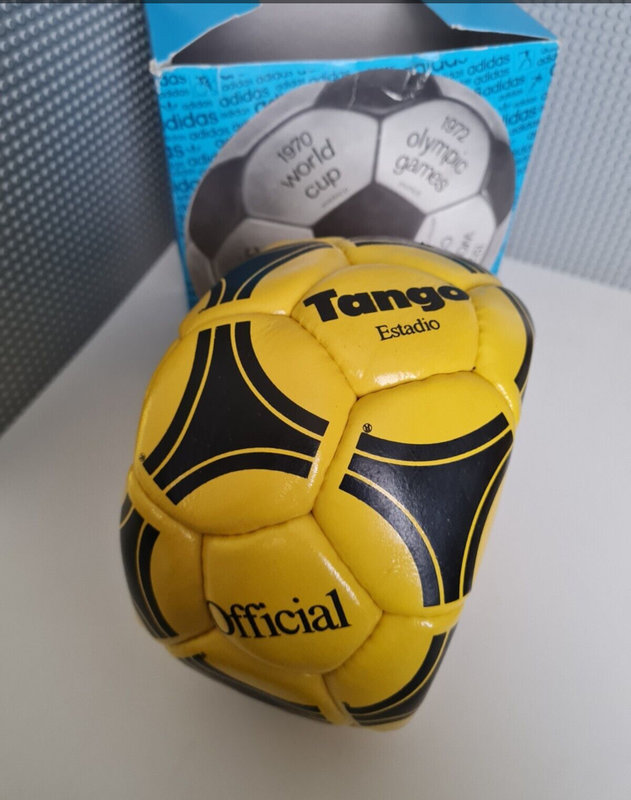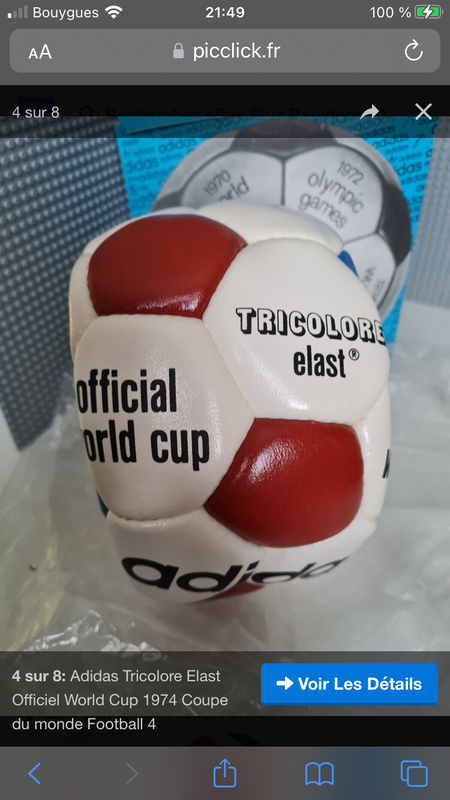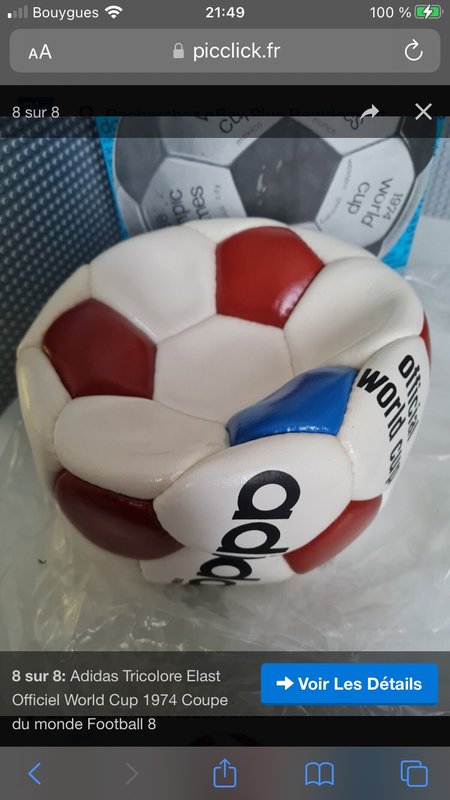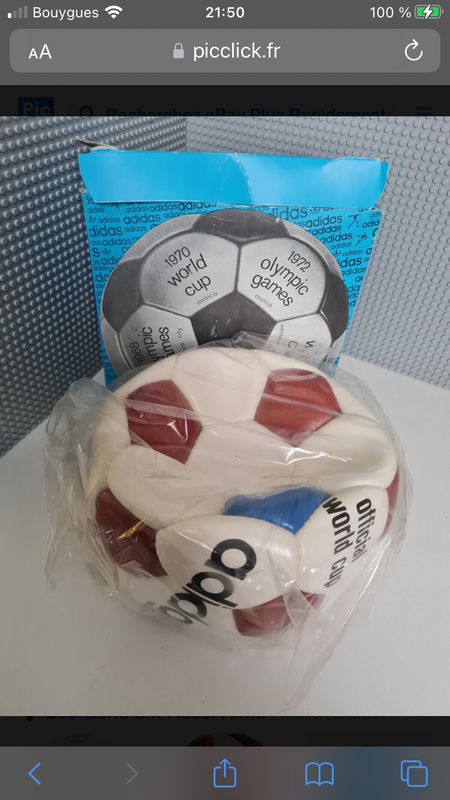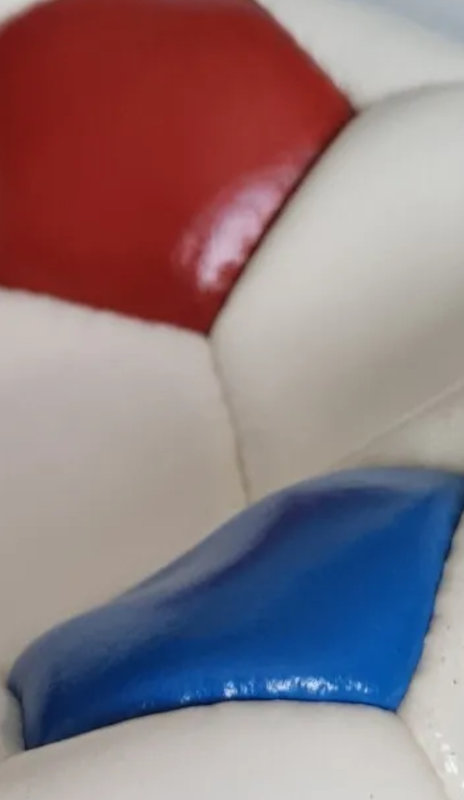 17 mars 2023
I bought an original rare french soccer ball in USA In fact the second from hungaria . You will see the leather ball when i receive it , Nevertheless one pic about the ball to show you the original stamp brand .
Baltimore Bays Autographed Soccer Ball - 1967 -
The Bays were then part of the NPSL - National Professional Soccer League .
Decipherable signatures list
(With added info on each)
Doug Millward (Coach)
(10 July 1931 – 23 October 2000)
He coached Baltimore Bays and Baltimore Comets
He had previously played for Ipswich Town FC in UK.
Guy St. Vil
Guy Saint-Vil (born 21 October 1942) is a Haitian football forward who played for Haiti in the 1974 FIFA World Cup. He also played for Racing CH. In the United States, he played for the Baltimore Bays in their inaugural year in 1967 for the NPSL, and continued with them into the NASL in 1968
Badu De Cruz
Badu De Cruz Born: July 20, 1946 in Niteroi, Brazil. He played on Baltimore Bays team in 1967 and 1968.
David Primo (non cursive signed)
David Primo born 5 May 1946 in Bulgaria. He is a former Israeli international footballer who was part of the squad that competed at the 1970 World Cup
Shimon Cohen
Shimon Cohen is an Israeli former professional association footballer who played for the Israeli national team and the Baltimore Bays of the National Professional Soccer League.
Cohen played nine games, scoring one goal, with the Israeli national team between 1962 and 1966. In 1967, he spent a single season on loan with the Baltimore Bays in the NPSL.
Luis Mayoral
Luis Mayoral Grande (born 10 August 1947) is a Spanish former footballer, who played for Baltimore Bays as an midfielder. He was professional from 1967 until 1976. He spent the better part of his youth career with Atlético Madrid after starting out at Grenoble. He moved to Albacete Balompié in 1975.
Ruben Garcete
Rubén Garcete , also known as Rubens (Asunción , March 30, 1941), is a Paraguayan former footballer and sports manager In 1967 he moved to the United States of America to play for the Baltimore Bays in the newly formed NPSL . With the Bays he took first place in the Eastern Division of the NPSL , thus qualifying for the finals of the competition, which he then lost against the Oakland Clippers .
Asher Welch
Asher Welch (born 16 April 1944) is a Jamaican former professional soccer player who played in the NASL between 1967 and 1970 for the Baltimore Bays and Kansas City Spurs. He began his career in Jamaica with Cavaliers FC,
Leif Claesson
Leif Claesson, Born 1940-12-12 in Sweden
Uriel da Veiga
Uriel Da Veiga (born August 28, 1940) is a retired Brazilian football (soccer) player
In 1967, Da Viega signed with the Baltimore Bays of the National Professional Soccer League. In 1969, the NPSL merged with the United Soccer Association to form the North American Soccer League
Fernando Azevedo
Fernando Azevedo ( born May 19, 1941) is a former Brazilian footballer who played as a striker
In 1967 he moved, following his St. Mirren coach Doug Millward , to the USA , to play for the Baltimore Bays
Hipolito Chilinque
Joe Speca
Joe Speca ( born July 1, 1937 ) is a former American soccer player and soccer manager .
In 1967 he was signed by the professionals of the Baltimore Bays , a franchise in the newly formed NPSL . With the Bays he obtained first place in the Eastern Division of the NPSL , thus qualifying for the final of the competition, which he then lost against the Oakland Clippers
Halis Alkis (no info found)
////////////////////////////////
My late uncle, Robert Anderson was a supervisor of ushers at the old Memorial Stadium in Baltimore Maryland in the 1960's and 1970's.
He ushered during all events at the stadium.
This was one of the items i inherited after his death a few years back.
It does not have a letter of authenticity but my uncle's position there should suffice.
Bad thing about his working there was that he was later fired for pushing a fan after they threw a beer on him.
the story
The National Professional Soccer League(NPSL) was a North American professional soccer league that existed for only the 1967 season before merging with the United Soccer Association (USA) to form the North American Soccer League. It had ten charter members, nine from the United States and one from Canada. To encourage attacking play, the NPSL introduced a new standings points system that was later used by the NASL – 6 points for a win, 3 for a draw, 0 for a loss and 1 bonus point for each of the first three goals scored. The circuit's commissioner was Ken Macker, an American publisher of three Philippines-based newspapers. The name National Professional Soccer League was revived in 1990 and used by a United States professional indoor soccer league.
11 mars 2023
Great vintage that i research long time ago , not a replica and not a ultimax but à Nice ball . First pics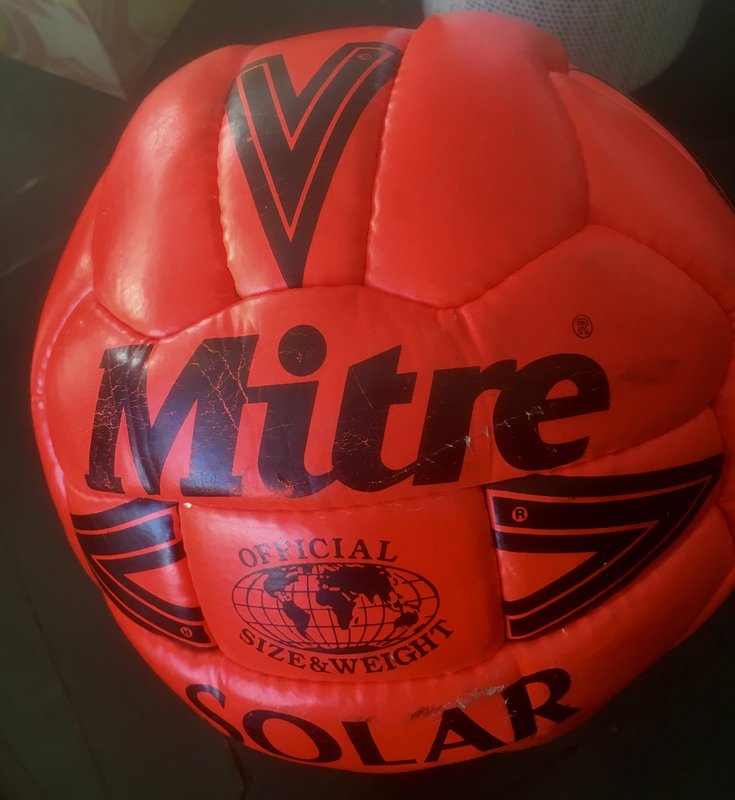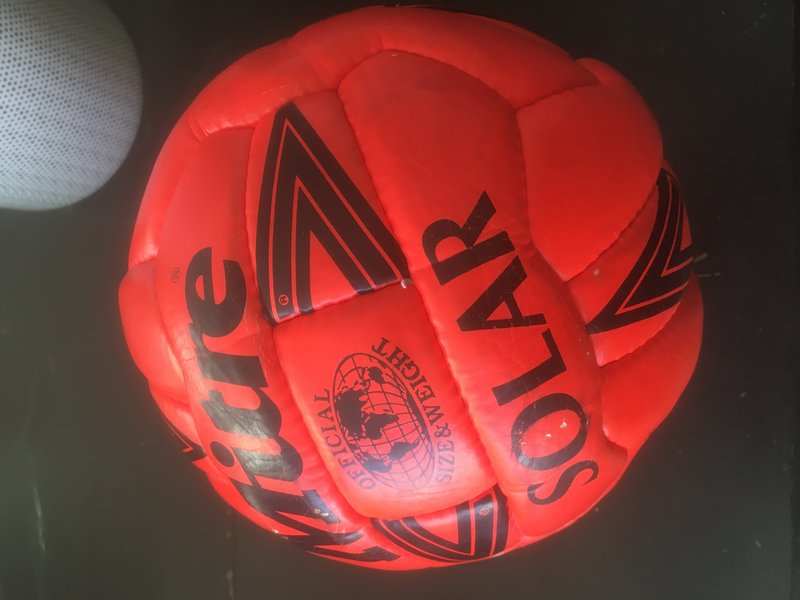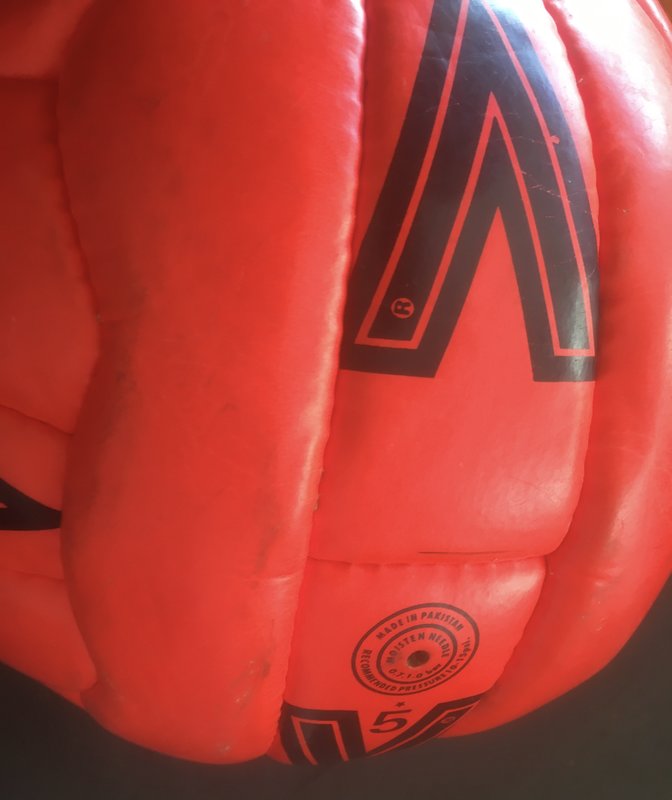 23 janvier 2023
www.facebook.com/footbalmuseum

Si par chance vous êtes en Italie je vous conseille de visiter ce musée exceptionnel !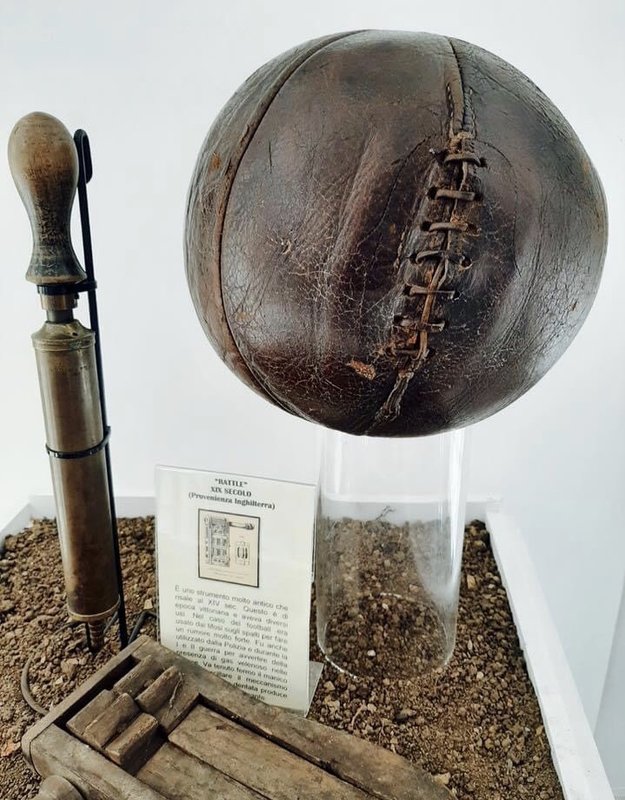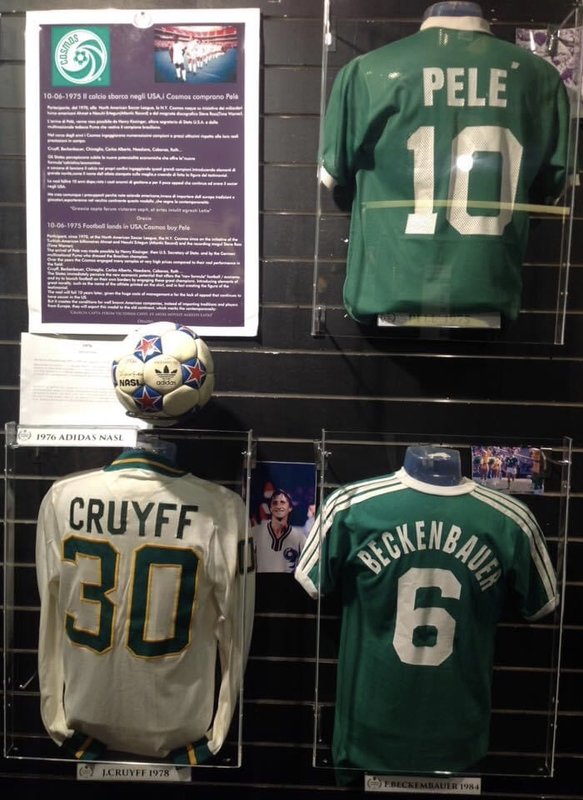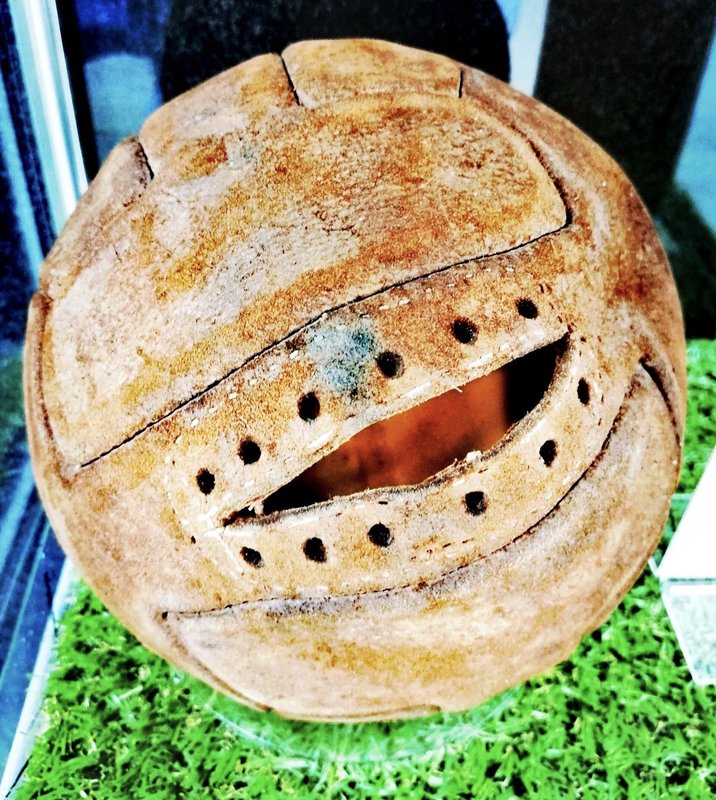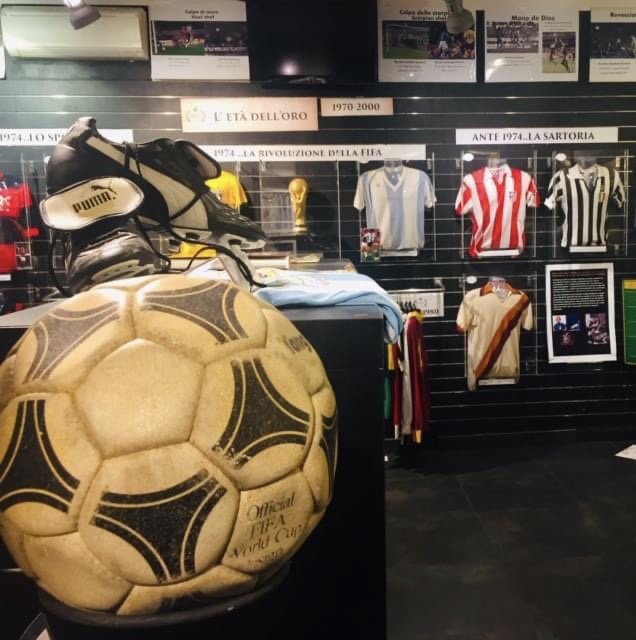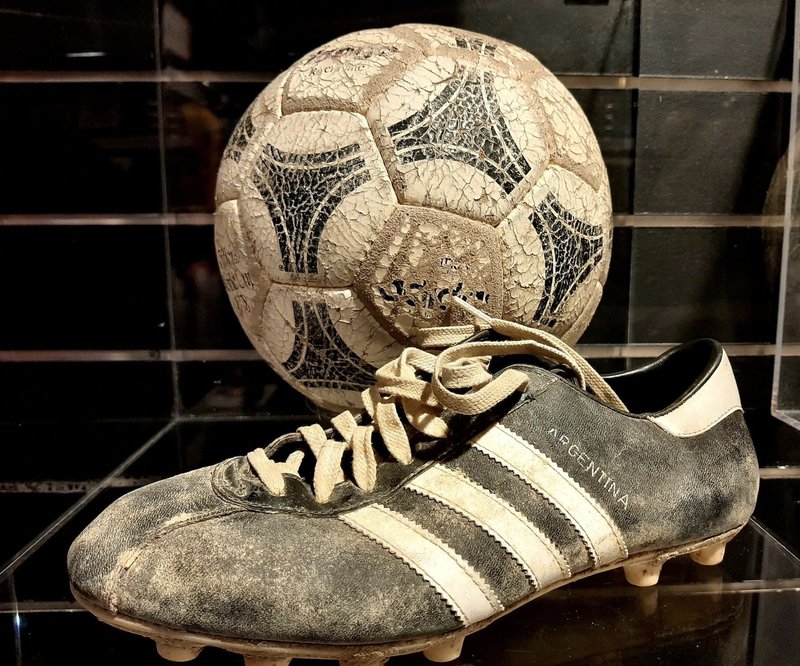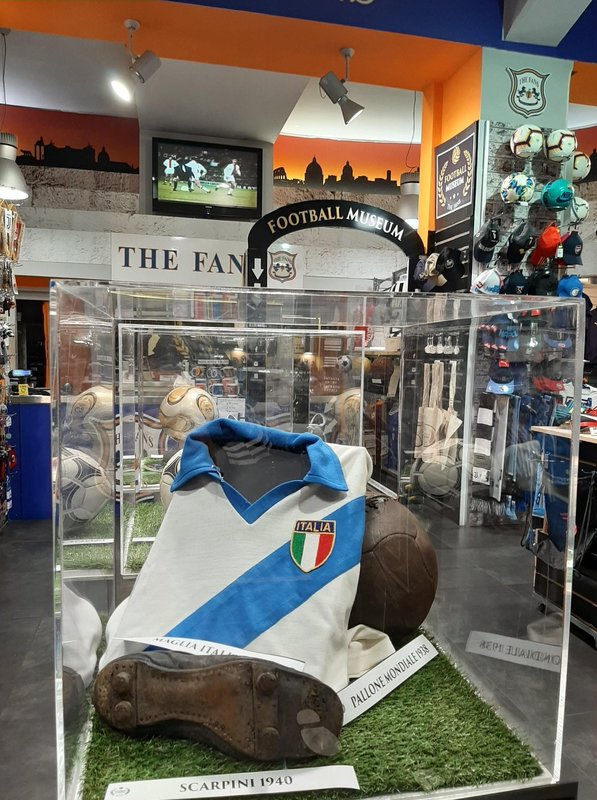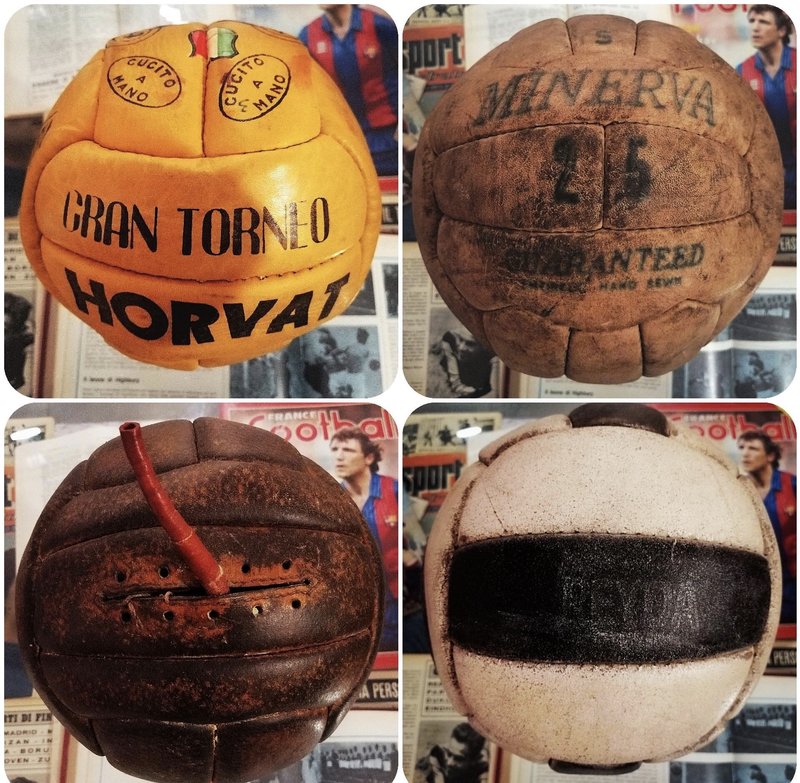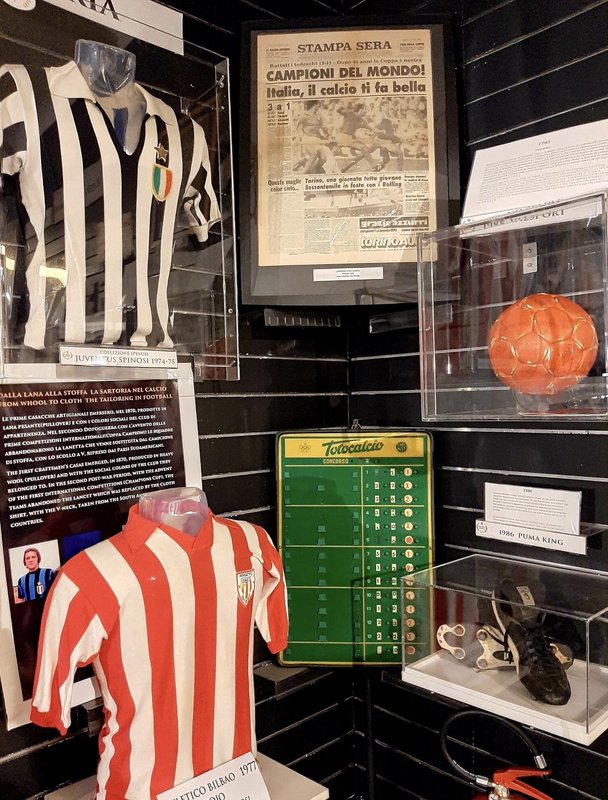 21 janvier 2023
Il m'est arrivé souvent de rechercher ce maillot pour remplacer le miens mais très rare de mettre la main dessus dans un état convenable étant donné l'âge de cette pièce unique . Non seulement la rareté fait le prix et la demande sur ce type de maillot est plus forte que la proposition. En clair ce fut longtemps mission impossible . Il y a plusieurs coloris pour ce maillot Adidas j'ai hésité entre un jaune à l'écusson FFF en état neuf vendu sur eBay mais son prix m'a fait entendre raison puis dans le même temps mes recherches m'ont permis de trouver sur ce sublime maillot rouge et bleu bandes blanche à ma taille et en très bon état de conservation.
Quand on a été gardien de but c'est pour la vie et ma passion ne se tarit pas . Je vous laisse découvrir ce maillot en photo. D'autres seront ajoutées plus tard , la matière est vraiment confortable à porter .

I